Dr. Antje Anderson, professor of English at Hastings College, will discuss her love of George Eliot for the spring 2018 Artist Lecture Series Invited Faculty Lecture.
In her lecture, "Antje Loves George: A Long-Term Academic Romance," Anderson will discuss how she came to love the renowned Victorian novelist George Eliot, starting with her first encounter with Eliot's most famous novel, Middlemarch, during her first year in college.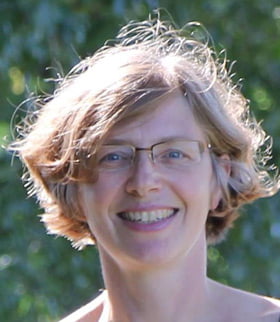 Anderson's lecture will take place at 10:00 a.m., Friday, March 2 in French Memorial Chapel. The lecture is free and open to the public.
Anderson will showcase the many unconventional choices Eliot made as a Victorian woman writer and intellectual, including her unusual level of education and her then-scandalous choice to live with her partner, George Henry Lewes, even though she could not marry him. George Eliot was revered in her own time by male and female readers alike for her rich and moving psychological portraits, and her lovingly detailed depictions of life in 19th Century England.
"I have read Eliot's novels many times over, but they still always surprise and delight me with sentences and ideas I have never noticed before. I don't ever get tired of reading her work, and I want to give my audience at least a glimpse of why I am so fascinated by this amazing Victorian writer," Anderson said.
Anderson's presentation is the second of two Invited Faculty Lectures to take place in the 2017-18 academic year. Each spring, Hastings College students select two faculty members to present campus-wide lectures on the professors' topics of choice during the next academic year. Considered a prestigious honor for the faculty, the tradition dates to 1967.
Biography for Antje Anderson
Dr. Antje Anderson has been at Hastings College since 1999, and was chair of the Department of Languages and Literatures from 2010 to 2015. Born and raised in Germany, Anderson first came to the U.S. on a one-year visiting scholarship, but returned to get her Ph.D at Rice University in 1991. She teaches a wide range of classes in English literature and composition, and has also taught German language and literature, a field in which she holds a Masters' degree.
Her research specialties include the history of the British novel and 19th Century fiction, especially Charles Dickens and George Eliot, but she is also interested in all forms of storytelling, not just in written form, but also in movie adaptations of literary works. She is currently conducting research on the connections between British and German novels in the 19th Century, but has also begun to explore the influence that German historians and art historians had on George Eliot's work and her view of the visual arts.
Hastings College is a private, four-year institution located in Hastings, Nebraska, that focuses on student academic and extracurricular achievement. With more than 60 majors and 15 pre-professional programs, Hastings College has been named among "Great Schools, Great Prices" by U.S. News & World Report and a "Best in the Midwest" by The Princeton Review. For more, go to hastings.edu.