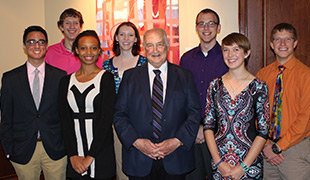 At an induction luncheon Wednesday, Oct. 22, Hal Dittmer, Chairman of Hastings College Board of Trustees, presented Walter Scott Jr. with an honorary doctorate degree of Business Administration for his distinguished service to the College.
Hastings College President Don Jackson thanked Scott for his service and dedication to Hastings College: "Walter, you have certainly kept your commitment to Hastings College, and the College and our students have been the beneficiaries of that commitment. Thank you."
From 1982 to 1997, Scott served on the Hastings College Board of Trustees and the Hastings College Foundation Board of Directors. He chaired Hastings College's Board from 1988 to 1994.
During his tenure as a trustee, he established the Walter Scott Jr. Endowed Scholarship Fund – a full-tuition scholarship for students with superior academic and leadership potential.
Hastings College's Scott Studio Theatre is named in honor of Scott and his late wife Suzanne. Scott has also given generously to several major capital projects at Hastings College, including, most recently, construction of the Morrison-Reeves Science Center. Peter Kiewit Sons, Inc., which Scott is past president and chairman, built the Science Center as well as most major facilities on campus since the mid-1980s. In 1998, Hastings College awarded Scott its highest non-academic honor – induction into its Pro Rege Society.
President Jackson credited much of Hastings' beauty and innovation to Scott. "In many ways—through his leadership on the Board of Trustees, his generous contributions and his visionary oversight of the College—Walter helped to shape the campus we have today—a campus regarded by many as one of the most beautiful and well-equipped in the country," Jackson said.
A graduate of Omaha Benson High School, Scott earned his bachelor's degree in civil engineering from Colorado State University. In 1953, he joined construction and mining giant Peter Kiewit Sons', Inc. In 1954, he entered the U.S. Air Force, serving as an air installation officer and inspecting road and runway construction. Upon completing his service, he rejoined Kiewit. He was elected Executive Vice President in 1965, President in 1979 and, after Peter Kiewit's death later that year, Board Chairman.
Scott is a Director of Berkshire Hathaway, MidAmerican Energy Holdings and Valmont Industries. He is active in community affairs and a Director or Board Chairman of numerous non-profits. On the national level, he is Director and former Board Chairman of the Horatio Alger Association and is also a member of the James Madison Council of the Library of Congress.
Scott has four children: Karen Dixon, Sandy Parker, Amy Scott and David Scott. David Scott serves on the Hastings College Foundation Board of Directors. His late wife had two children: Robert Singer and William Singer.
–Written by Maggie Meisinger, a senior from Littleton, Colo.