Walter Scott Jr., former chair of the Hastings College Board of Trustees, passed away Saturday at the age of 90. From 1982 to 1997, Scott served on the Hastings College Board of Trustees and the Hastings College Foundation Board of Directors. He chaired Hastings College's Board of Trustees from 1988 to 1994.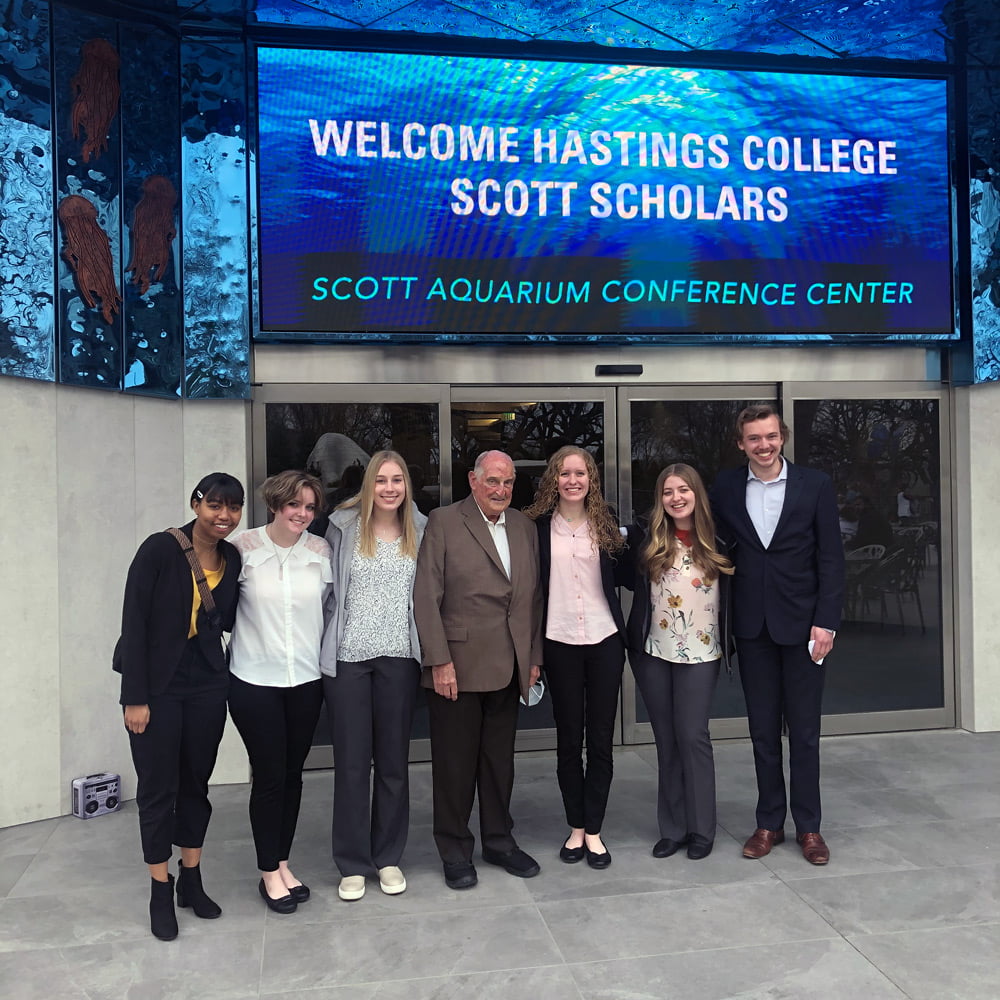 During his tenure as a trustee, he established the Walter Scott Jr. Endowed Scholarship Fund, a full-tuition scholarship for students with superior academic and leadership potential. That scholarship was expanded in 2019 thanks to a $5 million commitment from the Suzanne and Walter Scott Foundation to become the Scott Scholars program, which allows up to seven incoming students each year to receive a renewable scholarship that covers 100 percent of tuition and fees plus room and board. Scott met with the inaugural class of Scott Scholars in March in Omaha (photo).
In 2014, Scott received an honorary doctorate degree of Business Administration for his distinguished service to the College, and in 1998, he was named to the Pro Rege Society, the College's highest non-academic honor.
Hastings College's Scott Studio Theatre is named in honor of Suzanne and Walter, and Scott gave generously to several major capital projects at the College, including construction of the Morrison-Reeves Science Center.
A graduate of Omaha Benson High School, Scott earned his bachelor's degree in civil engineering from Colorado State University. In 1953, he joined construction and mining giant Peter Kiewit Sons', Inc. In 1954, he entered the U.S. Air Force, serving as an air installation officer and inspecting road and runway construction. Upon completing his service, he rejoined Kiewit. He was elected executive vice president in 1965, president in 1979 and, after Peter Kiewit's death later that year, board chairman.
Scott was also a director of Berkshire Hathaway, MidAmerican Energy Holdings and Valmont Industries. He is active in community affairs and a director or board chair of numerous non-profits. On the national level, he was director and former board chair of the Horatio Alger Association and was a member of the James Madison Council of the Library of Congress.
Scott had four children: Karen Dixon, Sandy Parker, Amy Scott and W. David Scott. David Scott, a 1985 graduate of Hastings College, also served as a Hastings College Trustee and as a member of the Foundation Board. Suzanne, his late spouse, had two children: Robert Singer and William Singer.