Kyle "Guante" Tran Mhyre, a two-time National Poetry Slam Champion, activist and educator, will give a keynote speech at Hastings College on Tuesday, April 23, at 6:00 p.m. in Hazelrigg Student Union rooms A & B. The event is free and open to the public.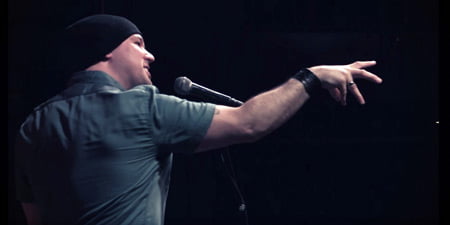 His poetic keynote, titled "Building a Culture of Consent: Spoken Word with Kyle 'Guante' Tran Myhre," will address the topics of masculinity, consent and ending gender violence through hip-hop, slam poetry and activist rhetoric.
Guante has had more than 10 million views online and has performed live at the United Nations, given a Tedx Talk and presented at countless colleges, universities and conferences around the nation.
Whether deconstructing traditional notions of masculinity, challenging dominant narratives related to race and racism, or just telling stories about the different jobs he's had, Guante strives to cultivate a deeper, more critical engagement with social justice issues, one based in both empathy and agency.
Guante completed his Master's studies in 2016 at the University of Minnesota with a focus on the spoken word, critical pedagogy and social justice education; in that spirit, his dynamic, audience-centered performances use poems as jumping-off points for authentic dialogue and community-building.
Guante is being hosted by College Acquaintance Rape Educators (C.A.R.E.) in conjunction with Sexual Assault Awareness Week and is sponsored by the Hastings College Lecture Series.
Hastings College is a private, four-year institution located in Hastings, Nebraska, that focuses on student academic and extracurricular achievement. Hastings College has been named among "Great Schools, Great Prices" by U.S. News & World Report and a "Best in the Midwest" by The Princeton Review. For more, go to hastings.edu.