The Hastings College Jackson Dinsdale Art Center galleries are filled with art from Dave Stewart and Eva Ellis this summer. The exhibitions opened May 28 and are free and open to the public.
The JDAC summer gallery hours are 9:00 a.m. to 5:00 p.m. Monday through Thursday, and 9:00 a.m. to 12:00 p.m. on Fridays. The galleries are also open 5:00-8:00 p.m. on Tuesdays.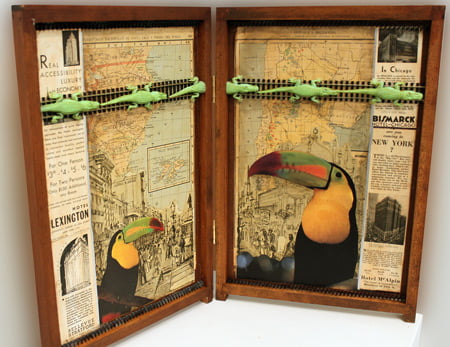 Both exhibits will be on campus until August 24, with a reception on August 22 from 6:00 to 8:00 p.m. at the JDAC (700 E. 12th Street).
The "Old and New" exhibit by Hastings, Nebraska, native Dave Stewart incorporates old work from various art collections, and new work by Stewart. He is known as making the old new again every day.
Stewart was a successful owner of a plumbing company. After retiring from plumbing, and moving to working as a janitor in the Hastings College Art Department, he began making sculptures in 1988. By 1995 he was heralded by Norman Geske, then director of the Sheldon Museum of Art, and Kyle McMillan, art critic for the Omaha World Herald, as being among the most important living artists in Nebraska.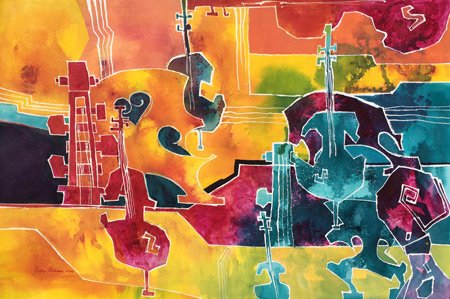 Eva Ellis, a signature member of the Ohio Watercolor Society, creates non-representational and abstract paintings in watercolor and mixed media, including textiles and metal. Her exhibit is titled "Strings in the Earth and Air." She comes from a family of musicians and storytellers and she said her art resembles that part of her life.
Her painting Off Kilter was selected for the Ohio Watercolor Society Silver Medal in Watercolor Ohio 2017, the 40th Annual Juried Exhibition. Her paintings have also been juried into Watercolor Ohio 2016, 2014 and 2013 when she was honored to receive the Doug Pasek Memorial Award, and Watercolor Ohio 2012. She received second Place in the Group Ten Gallery's 3rd Annual Juried Art Show in 2016 and has had paintings accepted into juried exhibitions at the Fairmount Center for the Arts, Chagrin Falls Valley Art Center and Group Ten Gallery, Kent. She participated as a member of the cooperative Group Ten Gallery from 2016 to 2018.
Hastings College is a private, four-year institution located in Hastings, Nebraska, that focuses on student academic and extracurricular achievement. Hastings College has been named among "Great Schools, Great Prices" by U.S. News & World Report and a "Best in the Midwest" by The Princeton Review. For more, go to hastings.edu.