Note: Due to health problems, Erin Mundus '07 was unable to join as a guest artist for the show. The part of Carry A. Nation will instead be played by Dr. Debra Rhodes, professor of music at Hastings College and musical director for the show.
---
The Hastings College Theatre brings Carry A. Nation, a radical member of the Woman's Christian Temperance Union at the beginning of the 20th Century, back to life with the premiere of "The Famous and Original Bar Room Smasher" written by Jim Fritzler, who is chair of the Hastings College theater department.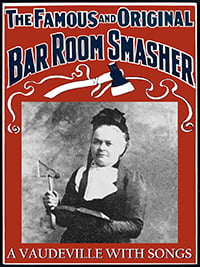 The script, adapted from Nation's autobiography, recreates the night the infamous "temperance terrorist" appeared onstage in Hastings, Nebraska.
The play also features the "White Ribbons Vibrations Choir" singing original hymns about the evils of alcohol.
The "play with music" is the culmination of Fritzler's most recent sabbatical research. His research originally focused on a local Hastings woman who wrote several plays. From there, he uncovered information about Nation's appearance on state in Hastings, leading him to learn more about her life, including her reputation as an ax-wielding, bar destroying prohibitionist.
Fritzler combined Nation's background with the well-known temperance hymns of Flora Cassell, another Hastings native, to create a theatrical statement about the era and political climate of the women's rights movement.
"Carry Nation became kind of a joke in Kansas, a crazy woman who hated alcohol, but she really was much more interesting than that," Fritzler said. "She lived in a time that was the beginning of women's rights, and the Midwest was really the origin for a lot of the suffrage movement."  
The production features guest artist and 2007 Hastings College graduate Erin Mundus as Nation. Mundus' theater credits include Crystal in "The Little Shop of Horrors," and Anybody's in "West Side Story," and she has performed in several well-known operas. The Wichita Eagle observed her "lovely voice, and the ability to command the stage" in her professional debut with the Wichita Grand Opera.
"The Famous and Original Bar Room Smasher" shows at 7:30 p.m., Thursday-Saturday, Feb. 2, 3 and 4, with an additional 2:00 p.m. matinee on Sunday, Feb. 5. Performances are in Scott Studio Theatre (806 N. Turner Ave.) on campus.
Tickets are $8 for the general public and $5 for seniors and students. The show is free for Hastings College students, faculty and staff. Seats can be reserved in advance by emailing tickets@hastings.edu.
Hastings College Department of Theatre Arts Presents the Premiere of "The Famous and Original Bar Room Smasher," a play with music by Jim Fritzler.
Music Director: Debra Rhodes
Scenic and Lighting Designer: Annette M. Vargas
Featuring Guest Artist Erin Mundus
CAST:
Carry A. Nation: Erin Mundus '07 of Wichita, Kansas
John W. Muller: Joe Daake of Kearney, Nebraska
Sophia Berg: Nicolette Sanchez of Grand Island, Nebraska
Lizzie Minch: Randi Scoggins of Hastings, Nebraska
David Bauer: Basil Rabayda of Phoenix, Arizona
Mary Batt: Becca Garner of Centennial, Colorado
Mary Mead: Emily Wesley of Clearwater, Florida
Mary Mantz: Greer Anderson of Colorado Springs, Colorado
Kate Reiber: Jordan Samuelson of Kearney, Nebraska
Cora Daugherty: Shaylee Krueger of Holyoke, Colorado
George Carter: Alex Rieflin of Doniphan, Nebraska
Harriet McElhinney: Tory Green of Broomfield, Colorado
Anna Batt: Carly Cremers of  Columbus, Nebraska
Mary Froschheuser: Liz Hartman of Hastings, Nebraska
Peter Theil: Dan Bredow of Omaha, Nebraska
Carrie Renfrew: Danielle Ryan of Aurora, Colorado
John Budnek: Dodge Weishaar of Bison, South Dakota
CREW:
Assistant Lighting Director: Greer Anderson of Colorado Springs, Colorado
Costume Designer: Alyssa Smith of Hastings, Nebraska
Master Carpenter: Joseph Jahn of Columbus, Nebraska
Victoria Korth of Assumption, Nebraska
Courtney Bailey of Westerville, Nebraska
Elizabeth Clark of Hastings, Nebraska
Haleigh Cunningham of Grand Island, Nebraska
Jaycie Hoins of Davenport, Nebraska
Kelsey Karr of Ayr, Nebraska
Wyatt Kile of Cortland, Nebraska
Camilla Lee of Mead, Colorado
Brittney Loney of Omaha, Nebraska
Trey Moore of La Vista, Nebraska
Zach Parella of Lincoln, Nebraska
Nick Rohrer of El Dorado Hills, California
Amy Still of Colorado Springs, Colorado
Dayna Strand of Amelia, Nebraska
Andrew Mickey of Hastings, Nebraska
Maria Bohannon-Mickey of Hastings, Nebraska
Hastings College is a private, four-year institution located in Hastings, Nebraska, that focuses on student academic and extracurricular achievement. With 64 majors and 15 pre-professional programs, Hastings College has been named among "Great Schools, Great Prices" by U.S. News & World Report and a "Best in the Midwest" by The Princeton Review. For more, go to hastings.edu.