A little girl learns how to face bullies, loneliness and hard conversations when her teacher gives her a magical book in "Big and Brave," the Hastings College Alpha Psi Omega's annual production for kids of all ages.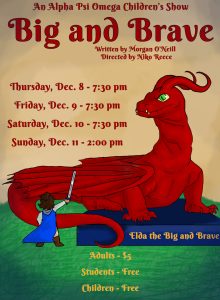 During the show, the girl, Steora, travels to the village of Quilaria, where a brave, strong knight and her favorite teddy bear help her defeat a big dragon and face her fears.
"Big and Brave," written by Hastings College senior Morgan O'Neill of Cheyenne, Wyoming, is in Scott Studio Theater on Thursday, Friday and Saturday, December 8-10 at 7:30 p.m, and Sunday, December 11 at 2:00 p.m.
Students and children will be admitted free, and adult tickets are $5 each. Tickets can be reserved in advance by emailing tickets@hastings.edu.
Alpha Psi Omega (APO) is the theatre honorary, whose members select, produce and perform a show suitable for children of all ages each year as a way to raise funds for the group.
Cast List
Elda: Jazlind Warren of Shelton, Washington
Steora: Brooke Jorgenson of Orleans, Nebraska
Mr. Tim Tim: Brandon Bruns of Hastings, Nebraska
Freyol/Frank: Noah Sullivan of Centennial, Colorado
Ms. Lightman: Jayne Deal of Littleton, Colorado
James/Gremlin 1: Jordan Parker of Omaha, Nebraska
Amelia/Gremlin 2: Aynsley Brink of La Vista, Nebraska
Ezra/Gremlin 3: Max Blankenship of Queen Creek, Arizona
Mia/Gremlin 4: Janison Majors of Superior, Nebraska
Olivia/Gremlin 5: Chaeli Doss of Plattsmouth, Nebraska
Milo/Gremlin 6: Casper Campbell of Columbus, Nebraska
Villager 1: Maddie Kamler of Shickley, Nebraska
Villager 2: Lakyn Kimmer-Steffen of Hastings, Nebraska
Villager 3: Owen DeBoer of Bennington, Nebraska
Villager 4: Kendall Greene of Colorado Springs, Colorado
Crew List
Director: Niko Reece of Bloomfield, Colorado
Stage Manager: Lindsey Pratt of Denver, Colorado
Box Office: Audrey Weeks of Hastings, Nebraska
Set Crew: Christian Kehn of Boulder, Colorado
Costumes: Hailey Moore of Juniata, Nebraska
Props: Keeley Garland of Boulder, Colorado
Hastings College is a four-year residential college that focuses on student academic and extracurricular achievement. Hastings' student-centered initiatives include providing all required textbooks and an iPad, while a block-style semester schedule allows professors and students to focus on fewer classes at a time. Discover more at hastings.edu.