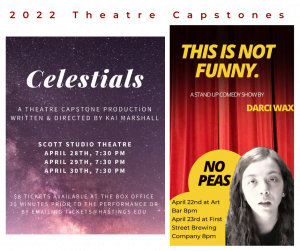 Hastings College Theatre has announced performances for two upcoming capstones productions, a stand-up comedy show to be staged off campus this Friday and Saturday, April 22 and 23, and an original one-act production to be held on campus April 28-30.
For her capstone, senior theatre major Darci Wax of Colorado Springs, Colorado, is performing a standup comedy routine, "This is not funny." She said material for the show has a few sprinkles mentioning mental health, being 21 and hating peas. The Friday, April 22 show begins at 8:00 p.m. at Art Bar (647 W 2nd Street), and the Saturday, April 23 performance begins at 8:00 p.m. at First Street Brewing (119 N St Joseph Avenue). Both shows are free and open to the public.
Kai Marshall's original one act, "Celestials," will run Thursday, Friday and Saturday, April 28, 29 and 30, at Scott Studio Theatre (806 N. Turner Avenue). Shows begin at 7:30 all three days, and tickets are $8 and available at the door beginning 30 minutes before each performance or by emailing tickets@hastings.edu. Marshall, who wrote and is directing the production, is a senior theatre major from Omaha, Nebraska.
"Celestials" tells the tale of how the sun, Solis, and the moon, Lune, fell in love. In order to become the true protector of her system, Solis must have the moons of every planet of the solar system fight for her hand. She is not keen on the idea until she meets Lune, the moon of Earth. As the two grow closer, they find that they are in love and wish to stay together. However, there are other forces at hand that attempt to pry the two lovers apart.