That Hastings College choir is hosting two public concerts in conjunction with high school choirs in Lincoln, Nebraska, and Council Bluffs, Iowa, later this month. Both concerts, and a post-concert reception at the church, are free and open to the public.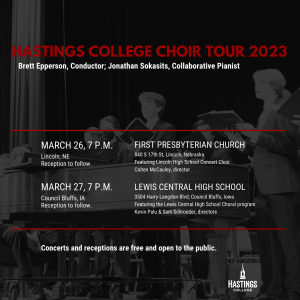 "We're looking forward to hitting the road for a few days and working with and singing with some great high school choirs. It will also be a great experience for our students, as they engage with high school students and share a little about life in a college choir," said Brett Epperson, director of the Hastings College Choir. "We're hoping to see a number of Hastings College alumni at the concerts and receptions that follow."
The first stop of the tour is Sunday, March 26, when the choir will perform a 7:00 p.m. concert at the First Presbyterian Church of Lincoln (840 S 17th St, Lincoln). Joining the Hastings College choir at this stop is the Lincoln High School Concert Choir, directed by Colten McCauley.
On Monday, March 27, the group will stop at Lincoln Pius X high school to sing and work with students.
The Hastings College choir will then travel to Lewis Central High School (3504 Harry Langdon Blvd., Council Bluffs), for another 7:00 p.m. concert. The Lewis Central High School Choir, directed by Kevin Palu and Sam Schroeder, will join in the performance.
The college choir will be joined by Dr. Jonathan Sokasits, professor of piano and collaborative pianist for the choir.