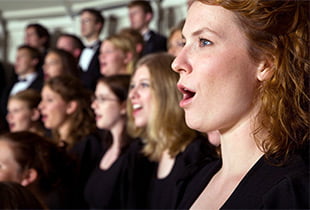 Long an audience favorite, The Hastings College Choir's February tour presents an eclectic program of America's favorite songs of faith, laughter and love.
The critically acclaimed Hastings College Choir, recognized as a pioneer American collegiate choral ensemble, launches its 2014 regional tour through western Nebraska and Colorado February 13-16, and will perform nine concerts under the direction of Conductor Dr. Fritz Mountford.
Concerts will take place in the Nebraska communities of Cozad, Gothenberg, North Platte and Ogallala, and in the Colorado communities of Yuma, Denver, Sterling and Colorado Springs.
See the full schedule below.
Touring the heartland of America is a long-standing tradition for The Hastings College Choir. This year's program features a rich tapestry of choral music, both a cappella and accompanied by instrumental ensembles drawn from the choir's student membership.
Founded in 1882 at Hastings College in Hastings, Nebraska, The Hastings College Choir is widely recognized as a creative force behind the establishment of collegiate choral singing in America, and for setting a high standard for choral artistry, vocal excellence and eclectic programming. Once a member of the choir himself, Mountford has led the ensemble since returning to Hastings College in 2000 from a career as a performer, conductor and internationally recognized showman and educator.
"Of course we continue to explore more than five centuries of sacred masterworks," Mountford said, "but remaining true to the vision of our pioneer founders, we believe that singing is for everyone, so we sing anything we find to be beautiful, moving or just plain fun. Our sense of adventure constantly peeks out from behind the formal veneer of our highly disciplined student ensemble to engage and move listeners of all ages."

Follow the tour on Facebook! Facebook.com/HastingsCollegeMusic
Tour Dates and Locations
Thursday, February 13
8:30 a.m.
Cozad Senior High School
1710 Meridian Ave., Cozad, Neb.
308.784.2745
11:30 a.m.
Gothenburg Senior High School
1322 Avenue I, Gothenburg, Neb.
308.537.3651
2:30 p.m.
North Platte Senior High School
1220 West 2nd St., North Platte, Neb.
308.535.7105
7:30 p.m.
First Presbyterian Church
1901 West Leota St., North Platte, Neb.
308.532.1083
Friday, February 14
9:30 a.m.
Ogallala Senior High School
602 East G St., Ogallala, Neb.
308.284.4029
2:30 p.m.
Yuma Senior High School
1000 S Albany St., Yuma, Colo.
970.848.5488
7:30 p.m.
First Presbyterian Church of Sterling
130 S. 4th St., Sterling, Colo.
970.522.2708
Saturday, February 15
7:30 p.m.
Montview Boulevard Presbyterian Church
1980 Dahlia St., Denver, Colo.
303.355.1651
Sunday, February 16
3:00 p.m.
Emmanuel Mission Baptist Church
3615 Vickers Dr., Colorado Springs, Colo.
719.635.4865
Highlights for the 2014 Tour Include
Selections from the repertoire of "World Music" — Ariel Ramirez's groundbreaking Misa Criola, sung in Spanish, features vocal soloists and an ensemble of indiginous Latin American instruments; and representing Africa, Stanley Glasser's Mambabo!, from a set entitled "Lalela Zulu.
Works by contemporary American composers Eric Whitacre and Craig Hella Johnson. "We performed Whitacre's Lux Aurumque and Johnson's Gitanjali Chants as part of our long-running 'Festival of Lessons and Carols' this past Christmas, and they were so well received both by the congregation and by our international webcast audience that we wanted to include them on tour," Mountford said. "Australian composer Sarah Hopkins's Past Life Melodies gives us a chance to experiment with the soundscape of non-traditional 'Hoomei' overtone singing."
Our signature selection of American popular songs, ranging from Jerome Kern's All the Things You Are to Billy Joel's And So It Goes, and of American folksongs including a close-harmony setting of Shenandoah and a raucous rendition of Sweet Betsy from Pike showcase the talents of music professor Ruth Moore, who is the coordinator of Hastings College's innovative major in collaborative piano. In addition we'll feature an exciting a cappella setting of Rossini's William Tell Overture arranged by former choir member Julie Eschliman.