Life-long friends with more than a decade of collaboration in the fields of youth engagement, creative arts and community building are bringing The Bridge Project to Hastings college on Wednesday, February 16. Kane Smego and Cj Suitt will host a workshop during the day for students and employees, and public spoken word/hip hop performance in the evening.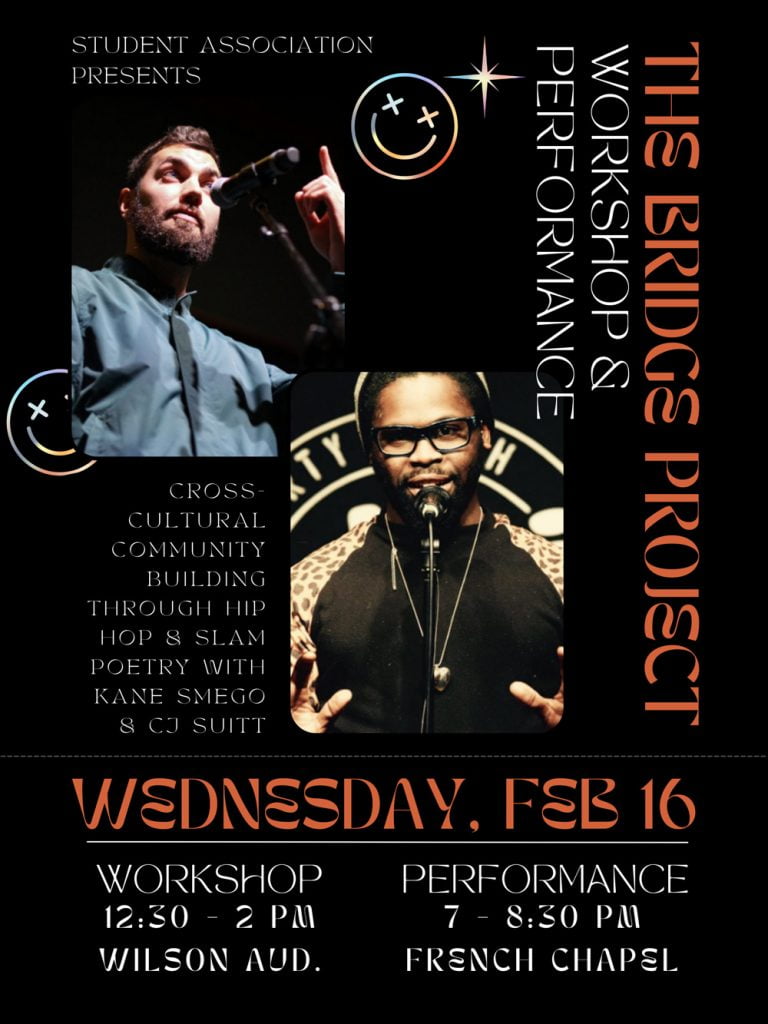 The workshop for students and College employees will be held in Wilson Auditorium on Wednesday, February 16 from 12:30 to 2:00 p.m. The Spoken Word/Hip Hop Performance and Open Mic is in French Memorial Chapel from 7:00 to 8:30 p.m. This event is free and open to the public. Note that face masks are required for both events.
The Bridge Project is a captivating performance and workshop where the duo reimagine healthy masculinity and celebrate the unique perspectives people carry, sharing stories in verse and guiding participants in telling their own. Beyond the poetry, this program is an invitation to dialogue, fostering social-emotional learning and building a more connected campus community. The event is part of the College's Black History Month programming.
Smego is an international touring spoken word poet and hip hop artist, educator and National Poetry Slam finalist. He is the associate director and an artist alumnus of Next Level, a cultural diplomacy program that sends American hip-hop artists around the world to use music and dance in promoting cultural exchange, artistic collaboration and community building.
Suitt is a performance poet, arts educator and community organizer from Chapel Hill, North Carolina, whose work is rooted in storytelling and social justice. He is committed to speaking truth to power and aims to be a bridge for communities who can't always see themselves in each other.
The Bridge Project is sponsored by the Hastings College Student Association.
Hastings College is a four-year residential college that focuses on student academic and extracurricular achievement. Hastings' student-centered initiatives include providing books, an iPad and a two-week study away experience at no additional cost. A block-style semester schedule allows professors and students to focus on fewer classes at a time and promotes hands-on experiences. Discover more at hastings.edu.