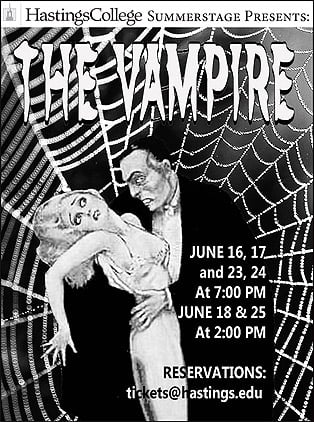 The Hastings College Department of Theatre's SummerStage stock company is set to produce its fifth annual production with Dion Boucicault's comedy melodrama, "The Vampire." This classic from the 18th century tells the frightening tale of a vampire who wouldn't die.
Performances are scheduled for June 16–17 and June 23–24 at 7 p.m., and June 18 and June 25 at 2 p.m. in Scott Studio Theatre. General admission tickets are $8; tickets for seniors and students are $5. Advanced reservations for "The Vampire" can be made by emailing tickets@hastings.edu.
The interactive production is "silly fun" for the whole family, allowing audiences to cheer the hero, boo the villain and throw popcorn! Kool-Aid and Eileen's Cookies will be available for purchase during the show.   
Hastings College Department of Theatre presents the fifth annual SummerStage production of "The Vampire," and old-fashioned comedy melodrama by Dion Boucicault. 
CAST:
Mrs. Clavering/Servant: Sarah Nottage-Tacey of Hastings, Nebraska
Hugh Neville/Dr. Reese: Dodge Weishaar of Bison, South Dakota
Ralph Gwynne/Stump: Josh Krontz of Hastings, Nebraska
Davy/Edgar: Jeff Sokol of Grand Island, Nebraska
Alan Raby: Alex Rieflin of Doniphan, Nebraska
Lucy Peveryl/Parson: Sabrina Maxwell of North Richland Hills, Texas
Ellen/Ada Raby: Maggie Ortiz of Denver, Colorado
Maude/Jenny: Carly Cremers of Columbus, Nebraska
Janet/Colonel Raby: Emily Funkey of Hastings, Nebraska
Hastings College is a private, four-year institution located in Hastings, Nebraska, that focuses on student academic and extracurricular achievement. With 64 majors and 15 pre-professional programs, Hastings College has been named among "Great Schools, Great Prices" by U.S. News & World Report and a "Best in the Midwest" by The Princeton Review. For more, go to hastings.edu.