Six Hastings College students and one recent graduate presented research at the 13th Annual Texas A&M History Conference. The conference, held February 17-18, featured graduate and undergraduate work from a variety of institutions that all fell into the theme "Between Conflict and Connection."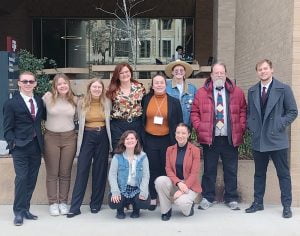 The organizing group said it was looking for papers that examined how conflict has torn some nations and peoples apart, while bringing others together. Scholars whose research highlights nonviolent conflict, such as political strife, trade wars, embargos and more were encouraged to apply, as were those who focused on histories of conflict and connection centered on events, the environment, nonhuman actors, inventions and processes.
In addition to presenting papers, the group took time during their travels to stop at the George W. Bush Presidential Museum and other historical locations between Hastings and Texas A&M.
Those who presented and their topics are included below:
Max Griffel of LaVista, Nebraska, presented "The Islamic Conversion of the Kingdom of Ghana."
Kinser Rafert of Sutton, Nebraska, presented "Crisis, Division, and New Connections in the Heart of Islam: The Qarmatian Raid on Mecca and the Rise of the Fatimid Caliphate."
Allison Knowles of Papillion, Nebraska, presented "Desegregation and Integration in Higher Education through the Lens of Football."
Hailey Moore of Juniata, Nebraska, presented "How far with women's lib?: The Catholic Church's Response to Second-Wave Feminism, and the Reconciliation of Feminist and Catholic Identity in Ireland,"
Brandon Hamel of Hastings, Nebraska, presented "The Suez Crisis and Egyptian Nationalism: Heikal, Nasser, and a Distinct Egyptian Identity."
Emma Downing of Colorado Springs, Colorado, presented "'We are the World:' Famine Aid in 20th Century Africa and the Creation of the 'Humanitarian Internationalist.'"
Olivia Perez '22, who is a graduate student at Southern Illinois University–Edwardsville, presented "Nationalism, Nazis, and a Crowbar: An Analysis of the Kaunas Pogrom in Lithuania."