Four Hastings College students attended the spring Midwest Political Science Association conference in Chicago, Illinois, earlier this year. Three students presented a poster titled "Authoritarian Personalities: The personality variation in left- and right-wing authoritarians" during the conference.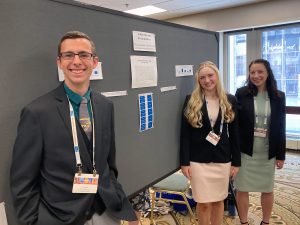 Students who presented the poster included Riley Lanning of Glendale, Arizona; Betsy Miller of Arlington, Kansas; and Cody Wilson of Strasburg, Colorado. Senior Victoria Caplinger of Effingham, Kansas, also attended the conference, which draws more than 5,000 political scientists from every state in the country and more than 100 other countries around the world.
The poster presentation was based on research funded by a Hastings College Summer Research Grant the students and political science professor Dr. Robert Amyot received last year.
The group researched, designed and fielded a pilot survey to 289 respondents, and then did follow-up interviews with about two dozen to better understand their thinking. Based on their findings, they put together a study design that will be even better at filling some of the holes they found in political psychology literature on the differences, if any, between left-wing and right-wing authoritarianism.
"Building on our funded pilot project from last summer, we'll field a 150-question survey to a nationally-representative sample of respondents in order to construct personality profiles for both left and right-wing authoritarians to provide support for the separate existence of both phenomena and better understand what they have in common," Amyot said. "We're looking forward to this second phase of the research."
Hastings College is a four-year residential college that focuses on student academic and extracurricular achievement. Discover more at hastings.edu.
By Cecilia Velarde, a junior marketing and communication studies double major from Loveland, Colorado