Nine students from the Columbus, Nebraska-area are enrolled and finding success at Hastings College. On Tuesday, December 17, several of those students met with local business leaders, community members, Hastings College alumni and high school students to share their experiences at the College.
"Both the faculty and staff at Hastings College have been supportive of me and my career explorations," said Carly Cremers, Hastings College senior and Columbus native. Cremers will graduate in May with a degree in elementary education—but also recently pitched a new idea in Hastings to create a business to teach students hula-hooping skills to focus on mental, physical and spiritual health.
"This idea came completely out of left field for me, but with some encouragement from Dave Rippe at Hastings College, I've actually moved forward with getting an LLC for an actual business," Cremers said.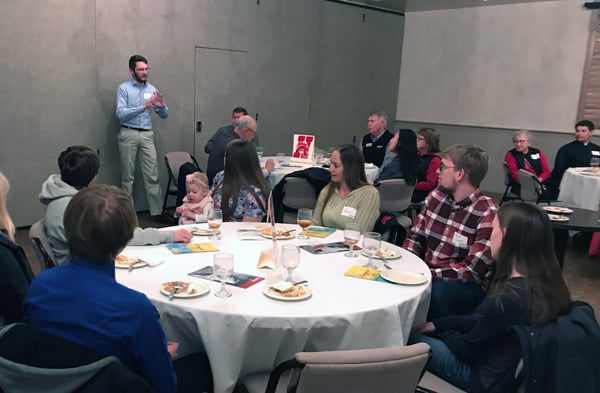 Dave Rippe, director of the Scott Scholars program at Hastings College, has been working with Scott Scholars to support those students and others in their career explorations and entrepreneurial ideas.
"The idea of starting your own business can be intimidating for anyone, but especially when you're a student. Our objective at Hastings College is to help students in connecting them with potential customers, legal advice, marketing assistance and business mentors through the College's alumni network and connections across the globe," Rippe said.
Rippe, the former director of the Nebraska Department of Economic Development, started at Hastings College in the fall and is coordinating the Scott Scholars program, which is being expanded for students enrolling next fall. The program will award up to seven full-tuition plus room and board scholarships each year to highly motivated students.
"Columbus is an amazing community, and it shows in the students that we have on campus and in our Scott Scholars program now. Not only are these students making a difference at Hastings College, but we expect these students to continue to make a difference in the communities they choose to call home once they graduate," said Rippe.
Matt Fong, associate vice president of external relations, said the College has nearly 150 alumni living in Columbus. "These are alumni who make a difference in the community every day, and is just one way to see how Hastings College makes a long-term difference in communities throughout the state," Fong said.
Hastings College this year also launched several new initiatives, including providing all students with an iPad Pro and Apple Pencil, and all required textbooks. This creates a level playing field for all students, and eliminates the uncertainty surrounding the cost of textbooks families face each semester.
In addition, all sophomore students have the opportunity to study abroad during a two-week block, with the cost being covered by donors.
The two-week block is part of the College's block-style semester structure — with the traditional 16-week semester divided into one two-week block and two seven week blocks. Students take one class or travel in the two-week block, and one or two classes in the seven-week blocks. This allows students to meet with professors every day, and professors only teach one or two classes at a time, so they have more time to connect and support students.
"Hastings College has the ability to connect with a variety of students and intentionally support them in whatever direction they want to go," said Joe Jahn, a Hastings College senior and Columbus High School graduate. "For me, the College has connected me with several potential employers and I'm hoping to stay in Nebraska after graduation."
Nebraska's premier private college, Hastings College is a four-year institution located in Hastings, Nebraska, that focuses on student academic and extracurricular achievement. Hastings College has been named among "Great Schools, Great Prices" by U.S. News & World Report and a "Best in the Midwest" by The Princeton Review. For more, go to hastings.edu.