The Hastings College Food4Thought leadership team accepted the United Way of South Central Nebraska's Spirit Award during the United Way of South Central Nebraska's 76th annual meeting and awards ceremony Feb. 14.  
"We are humbled to be recognized by the United Way for our service because they are truly representative of what it means to serve the community," said Mallory Gruben, Food4Thought public relations representative and a junior from Eckley, Colorado, majoring in journalism. "This award reminds us how fortunate we are as college students to have the opportunity to give back to the Hastings community."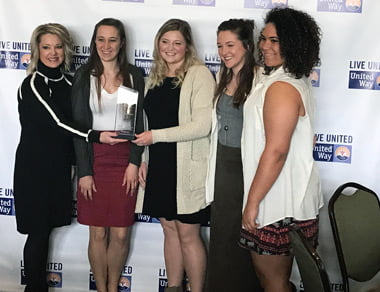 Food4Thought is a student-run food assistance program that sends meals home over the weekend with elementary students on the Free and Reduced Lunch Program. Food4Thought was founded by 11 Hastings College education majors in 2008 after the students identified a link between unfocused students and food insecurity.
The program's mission is to provide children with the nourishment they need to feel full and ready to focus on Monday when they return to school. The program currently serves 100 families in Hastings Public Schools.  
The Spirit Award recognizes individuals and organizations that show an exceptional contribution to the community. Each year, the United Way of South Central Nebraska presents the award to an individual or individuals who embody outstanding humanitarian efforts and a proven spirit of giving through contributions of time, leadership and resources in support of the United Way. It celebrates those who are leading and creating an impact around United Way's work through volunteerism, advocacy and an outstanding record of philanthropic support.
Hastings College is a private, four-year institution located in Hastings, Nebraska, that focuses on student academic and extracurricular achievement. With 64 majors and 15 pre-professional programs, Hastings College has been named among "Great Schools, Great Prices" by U.S. News & World Report and a "Best in the Midwest" by The Princeton Review. For more, go to hastings.edu.