The Hastings College student media team is broadcasting all matches from the NAIA Women's Volleyball National Championship in Sioux City, Iowa, December 3-7, including the semifinals and championship matches that will stream nationally on ESPN3. All other matches from the championships will stream on the NAIA Network.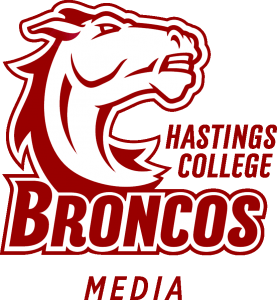 This is the third year the Hastings College student media team has livestreamed the NAIA volleyball championship. For the past 16 years, the media team has broadcast the NAIA DII Women's Basketball National Championship.
The media team is comprised of students from across campus and is managed by Autum Conley, director for the Center of Applied Media Arts and visiting instructor of visual arts. The team manages the entire production, from setting up cameras and building graphics needed for the streams.
Select Hastings College students and sports information directors from other NAIA schools also provide commentary for each match except the semifinals and championship games, which are called by ESPN analysts.
"This is a great way for students to get hands-on live production experience, and broadcasting such a large tournament gives students opportunities they wouldn't normally have, including seeing their work carried nationally by ESPN," Conley said.


During the 32-team pool play, December 3-5, three matches are held simultaneously at the Tyson Events Center in Sioux City. Two simultaneous matches are held during bracket play December 6 and for the semifinal matches December 7.
Productions are single camera except the semifinals and championship, which are a multi-camera setup that include additional graphics, replays and highlights. The semifinals and championship matches are available only on ESPN3.
Students participating in producing the NAIA Women's Volleyball National Championship include:
Sam Bosle, a junior from Hastings, Nebraska
Sam Burke, a junior from Denver, Colorado
Blake Earnest, a senior from Wood River, Nebraska
Becca Garner, a senior from Centennial, Colorado
David Loomis, a junior from Pratt, Kansas
Sam Marsh, a sophomore from Hastings, Nebraska
Jo McCauley, a sophomore from Trenton, Nebraska
Nate Miller, a senior from Warrensburg, Missouri
Lauren Raftery, a senior from Canberra, Australia
Sage Reiger, a sophomore from Fremont, Nebraska
Kiante Stuart, a first-year student from Nassau, The Bahamas
Caitlin Smith, a junior from Brooklyn, Iowa
Austin Uhlig, a sophomore from Omaha, Nebraska
Nebraska's premier private college, Hastings College is a four-year institution located in Hastings, Nebraska, that focuses on student academic and extracurricular achievement. Hastings College has been named among "Great Schools, Great Prices" by U.S. News & World Report and a "Best in the Midwest" by The Princeton Review. For more, go to hastings.edu.