Photo Attached: Inductees into the Hastings College chapter of the Society for Collegiate Journalists include (from left): Jordan Ismaiel, Caitlin Smith, Sam Bosle, Marc Sisson, Luke Liffengren, Dany Cook, Nate Miller, Becca Garner, Jake Zink, Jarad Johnson, Cameron Bradley, Ron Roskilly and Gideon Monette.
The Hastings College chapter of the Society for Collegiate Journalists (SCJ) inducted 13 members into the honorary on May 3.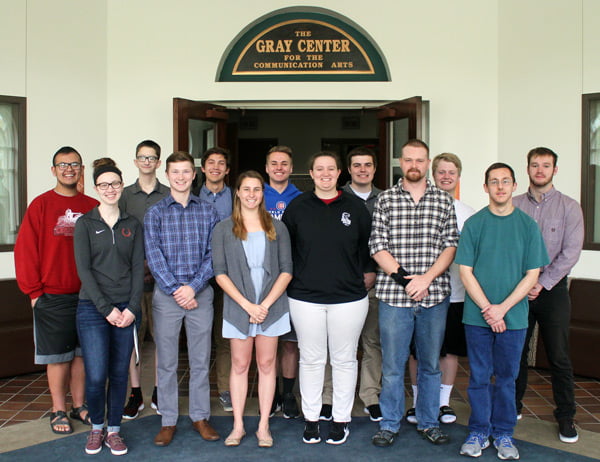 SCJ is the nation's oldest honor society for student media leaders. Journalism is a foundation of democracy, and to ensure its future, SCJ focuses on professional development at the collegiate level by advancing ethical, accurate and innovative collegiate journalism nationally and creating a strong network of advocates for First Amendment education.
SCJ has approximately 100 active chapters nationwide and 1,200 members.
The Hastings College chapter was established in 1937, making it one of the longest continuously serving chapters in the country.
Students inducted into the Hastings College chapter of SCJ include:
Sam Bosle, a sophomore from Hastings, Nebraska
Cameron Bradley, a sophomore from Wichita, Kansas
Dany Cook, a senior from Fairfield, California
Becca Garner, a junior from Centennial, Colorado
Jordan Ismaiel, a junior from Hastings, Nebraska
Jarad Johnson, a senior from Golden, Colorado
Luke Liffengren, a sophomore from Conifer, Colorado
Nate Miller, a senior from Warrensburg, Missouri
Gideon Monette, a junior from Mullen, Nebraska
Ron Roskilly, a senior from Deshler, Nebraska
Marc Sisson, a senior from Yutan, Nebraska
Caitlin Smith, a sophomore from Brooklyn, Iowa
Taylor Van Pelt, a senior from Phillips, Nebraska
Jake Zink, a senior from Papillion, Nebraska
Hastings College is a private, four-year institution located in Hastings, Nebraska, that focuses on student academic and extracurricular achievement. Hastings College has been named among "Great Schools, Great Prices" by U.S. News & World Report and a "Best in the Midwest" by The Princeton Review. For more, go to hastings.edu.