Six individuals have joined the Hastings College Board of Trustees, and participated fully in a Board meeting that was held on campus last week.
During the meeting, Ann Martin, a 1977 Hastings College graduate, was elected to serve as Board chair. Martin joined the Board in 2015.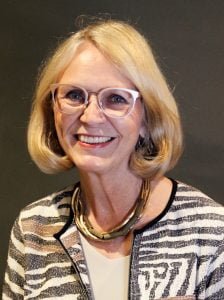 Martin succeeds Roger Doerr, who retired from the Board at the meeting. Doerr, emeritus professor of business and economics, was elected to the Board in 2016, named vice chair in 2019 and chair in early 2020. Trustees Rich Koopmann and Dr. Bruce Gulliver also retired from the Board at this meeting. Koopmann, a 1976 graduate of the college, served on the board since 2017, and Gulliver, a 1970 graduate, was elected in 1997.
New Trustees include Rob Andrews, president and CEO of CommunityWorks Inc.; Alex Eisele, a vice president in Goldman Sachs' global markets division; Jen Erickson Baak, an attorney at Hilgers Graben PLLC; Jill Farrell, vice president of client relationship management with American Century Investments; Dr. Jillian Fickenscher, a family physician at York Medical Clinic; and Atl Martinez, vice president and chief procurement officer for Lafargeholcim North America.
"We are very appreciative and thankful for the time Roger, Rich and Bruce spent on the Board. Their insight, advice and guidance made a difference for Hastings College," Martin said. "At the same time, we're excited to have six new Trustees join us in our work, and I'm also thankful for being elected chair and having the opportunity to give back in a new way to a place that has given me and my family so much."
Bios for the new trustees are included below.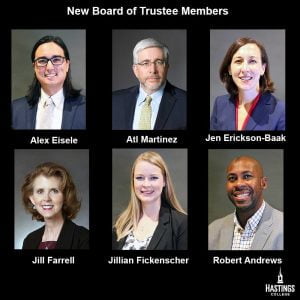 Rob Andrews is a 2007 Hastings College graduate and is currently the president and CEO of the longstanding nonprofit social enterprise CommunityWorks Inc. He attended Hastings College on scholarship as a quarterback for the football team. Upon graduating with a degree in psychology in 2007, he played for the Calgary Stampeders in the Canadian Football League. Andrews helped open an Obama campaign office south of the Fort Carson military base and ran for city council.
Andrews is committed to social change and entrepreneurship. In the last five years, he has started and managed four socially conscious startups, from a program called One Voice Coalition to the app Arcade Exchange. Now in Denver, Colorado, he works at the intersection of social entrepreneurship and nonprofits to help people across the state find jobs with the mission to align businesses with people's needs, keep money in communities and empower others to create social change in minute and then massive ways.
Alex Eisele is a 2015 graduate of Hastings College where he majored in computer science and minored in mathematics and management information systems. During his time as a student, he served as student body president, Artist Lecture Series co-chair and was an active member of the men's golf team. As an alumnus, Eisele was the 2018 Hastings College commencement speaker and was named Outstanding Young Alumni in 2019.
After graduating from Hastings College, Eisele began his career at Goldman Sachs based in New York City and is currently a vice president in its global markets division where he focuses on building desktop, web and mobile trading software for institutional clients of the firm. Eisele is a strong advocate for liberal arts education and a proponent of the critical thinking skills and lifelong learning it instills in students.
Eisele is from Colorado Springs, Colorado, and currently resides in Omaha, Nebraska. He is married to Ginger Ball, a 2016 alumna.
Jen Erickson Baak, a 2000 Hastings College graduate, has been an attorney at the Lincoln-based law firm Hilgers Graben PLLC since 2017 where her practice focuses on commercial disputes and intellectual property. Prior to that, she spent a number of years in Chicago, Illinois, working at the Appellate Division for the City of Chicago Department of Law, at the Chicago-based firm Winston & Strawn, and as a law clerk for Judge William Bauer of the United States Court of Appeals for the Seventh Circuit. Erickson Baak graduated from the University of Iowa College of Law in 2003.
Erickson Baak resides in Denver, Colorado, where she is involved at Wellshire Presbyterian Church (PC USA), serving as an elder and on the church's personnel committee.
Jill Farrell of Leawood, Kansas, is a 1987 Hastings College graduate and vice president of client relationship management with American Century Investments, a global asset management firm focused on delivering investment results and building long-term client relationships with institutions, consultants and individual investors. The firm distributes more than 40 percent of its dividends to the Stowers Institute for Medical Research, a non-profit, world-class biomedical research organization dedicated to uncovering the causes, treatments and prevention of genetically-based diseases like cancer.
Born and raised in Hastings, Farrell has cultivated a lifelong relationship with Hastings College, graduating magna cum laude with her bachelor's degree in communication arts and English. She received her Master of Arts degree in communication from the University of Arkansas and holds four securities licenses.
Farrell previously worked for Walt Disney Studios in Burbank, California, as a film/TV publicist and for the University of Arkansas as an adjunct professor. A frequent industry speaker, Farrell received American Century's Integrity Award. She serves on the board of directors and the PR/Marketing Committee for Rose Brooks Center, a leader in domestic violence programs, support and shelter, and is a community volunteer.
Dr. Jillian Fickenscher, a 2008 Hastings College graduate, is a family physician at York Medical Clinic in York, Nebraska. She earned her Medical Doctorate and Master of Public Health degrees from the University of Nebraska Medical Center. In addition to practicing full scope family medicine in her community, she serves in a public health capacity as the Board Physician for the Four Corners Health Department Board of Health and as a member of the State of Nebraska DHHS Maternal Mortality Review Committee. Fickenscher also serves as an Item Writer for the American Board of Family Medicine board certification and In-Training exams. She is married to Hastings College alumnus Dr. Brady Fickenscher '08 and they have two children.
Atl Martinez, a 1992 Hastings College graduate, is vice president and chief procurement officer for LafargeHolcim North America, where he is responsible for all procurement and category management in the United States and Canada, managing more than $3.7 billion and overseeing a team of 100 employees across the country. An accomplished business leader with more than 25 years of experience, Martinez, who lives in Milan, Michigan, places a strong emphasis on integrating e-business solutions, such as SAP and Enterprise Resource Planning (ERP), to significantly streamline operations, improve efficiencies and reduce costs.
Prior to the merger between Lafarge and Holcim in 2015, he worked for Holcim in a number of roles in which he was responsible for the procurement function as CPO, including category sourcing for fuel and energy requirements and introducing imports and alternative fuels. Throughout his 25-year career, Martinez has had the opportunity to work in different countries and cities. During his tenure at Cemex, Inc., he served in a variety of procurement and sourcing roles that took him to Houston, Texas; Cairo, Egypt; Caracas, Venezuela; and Madrid, Spain, from 1997 to 2005.
Throughout his career, Martinez has continued his professional development through management programs and e-business solutions training. He has also served as a speaker at professional meetings including the Consero, Sourcing Summit, Procure Con and CPO Summit.
Hastings College is a four-year residential college that focuses on student academic and extracurricular achievement. Hastings' student-centered initiatives include providing books, an iPad and a two-week study away experience at no additional cost. A block-style semester schedule allows professors and students to focus on fewer classes at a time and promotes hands-on experiences. Discover more at hastings.edu.