Six individuals will be inducted to the Hastings College Fine Arts Hall of Fame during a ceremony held in conjunction with Hastings College Homecoming weekend, on Friday, September 23.
The event will be at the Jackson Dinsdale Art Center (700 E. 12th Street), with appetizers at 6:00 p.m. and the ceremony at 7:00 p.m. Tickets are $25 per person and may be purchased at hastings.edu/homecoming or by contacting the Hastings College alumni office at 402.461.7363 or alumni@hastings.edu.
The 2022 Hastings College Fine Arts Hall of Fame class includes:
Dr. Charles Guildner '54 of Everett, Washington, for art
Erik Kling '99 of Burbank, California, for art
Dr. Duane "Bear" Johnson '57 of Hastings, Nebraska, for music
Linda (Metzger) Johnson '79/'94 MAT of Hastings, Nebraska, for music
Tom Reynolds '98 of Brooklyn, New York, for theatre
Rob Townsend '73 of Mansfield, Texas, for theatre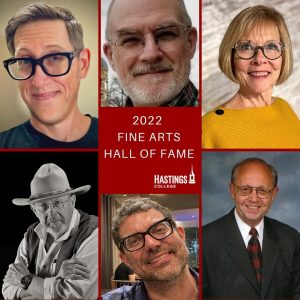 This is the third class entering the Fine Arts Hall of Fame, which aims to recognize Hastings College alumni who are making a difference in their communities through their talents in fine arts.
Biographies of the 2022 inductees are included below.
Dr. Charles Guildner '54 began photographing the landscape and lives of people of the rural heartland in 1990. Born and raised in Nebraska, the focus of the 90-year-old's photography is finding and recording ordinary people, namely farmers and ranchers of small, rural areas, who are living "lives of tradition." He has logged hundreds of miles in his pickup truck camper visiting previous and new locations, following leads and networking to find new people and places where traditions are sustained, capturing photos almost daily for three to four months, beginning in April and returning home in July where he then works with new negatives to make museum-quality exhibition prints, corresponds with new leads and makes preparations for going on the road again.
Guildner's photos have been published in "Nebraska Life Magazine" and are on display in more than 20 exhibitions. He also has 10 permanent collections, including one at Hastings College.
Erik Kling '99 has nearly two decades of experience as an animator and director, working in multiple roles and mediums to elevate the art of animation through visionary storytelling, well-developed characters and emotionally-driven cinematography. His works include, "Kung Fu Panda: Legends of Awesomeness" and "Fanboy and Chum Chum" with Nickelodeon Studios; "Star Wars Detours" with Lucasfilm Animation; "Lego Justice League" with Warner Brothers Animation; and "Dinotrux/Supercharged," "The Epic Tales of Captain Underpants" and "Madagascar: A Little Wild," all with DreamWorks Animation. He has also had Daytime Emmy nominations in Main Title Animation and Design for his work with "Fanboy and Chum Chum" and "Dinotrux/Supercharged." Kling is now working as a director for Disney Television Animation.
Dr. Duane "Bear" Johnson '57 arrived at Hastings College in 1953 as a student majoring in music and French and was a member of the track team. After 10 years teaching music in the public schools, Johnson returned to his alma mater as director of bands in 1967. Over the next 33 years, "Bear," as he was affectionately known, organized the college band to be at football and basketball games and led the band in rousing renditions designed to entertain, energize and excite both the players and fans.  In addition, the college band toured 26 states and Canada and performed at major conventions before national audiences. Johnson also organized and directed the first jazz ensemble and brass choir, reinstated a show choir, added a second choir, and created Majesty and numerous other temporary ensembles.
Johnson is past president of the Nebraska Music Educators Association, the Nebraska State Bandmasters Association, the Hastings Symphony Orchestra executive board, First United Methodist Church Methodist men's group, and the Hastings Noon Kiwanis Club. He received the Don Lentz Outstanding Bandmaster Award in 1977, was inducted into the Nebraska Music Educators Hall of Fame in 1980, was awarded the Outstanding Music Educator award from the National High School Scholastic Association in 1995, and was inducted into the Hastings College Athletic Hall of Fame in 1999 for Meritorious Service.
Linda (Metzger) Johnson '79/'94 MAT founded the South Central Nebraska Children's Chorale in 1994 with Dr. Robin Koozer '76, a 2021 Fine Arts Hall of Fame inductee, and Julie Soderquist '92. The chorale was berthed following Johnson's thesis presentation on children's choirs for her master's degree in arts and teaching at Hastings College and includes students in fourth through eighth grades. She was director of the Chorale for 26 years, and has been director for the youth choirs at First Presbyterian Church in Hastings for 30 years.
In the spring of 2012, she was recognized by the Hastings Symphony Orchestra as the "Arts Educator of the Year." In 2009, Walmart honored her as the area "2008 Teacher of the Year." And in the spring of 2015, she was honored by Adams Central Jr.-Sr. High School as "Teacher of the Year." Johnson served as a vocal music teacher at St. Michael's Elementary School for four years and Adams Central High School for 22 years before her retirement in 2020 after 26 years of teaching.
Tom Reynolds '98 is an assistant stage manager on Broadway and has been working as a stage manager behind the scenes of "The Lion King" in New York City since 2007. The musical, which has won 70 major theatre awards and is the third longest-running show on Broadway, is performed eight times a week. Additional shows Reynolds has participated in include "The Color Purple," "Hank Williams: Lost Highway," "Off Broadway" and "The Immigrant."
Rob Townsend '73 served as the producing director at the Shakespeare Festival of St. Louis from 2000 through 2007. During Townsend's tenure, the weeklong Shakespeare event drew 30,000 people every summer and featured jugglers, string quartets, acrobats, belly and ballet dancers, and scholars who entertained audiences between plays. When the one-time actor found himself in Seattle because of his wife's job relocation, he was named the executive director for Northwest Folklife, which hosts the city's beloved Northwest Folklife Festival, serving in this position through 2016.
Hastings College is a four-year residential college that focuses on student academic and extracurricular achievement. Hastings' student-centered initiatives include providing books, an iPad and a two-week study away experience at no additional cost. A block-style semester schedule allows professors and students to focus on fewer classes at a time and promotes hands-on experiences. Discover more at hastings.edu.