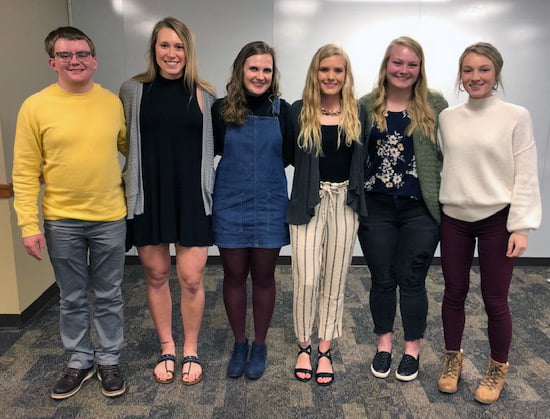 The Hastings College chapter of Alpha Chi, a collegiate all-discipline academic honor society, inducted seven new students recently.
Alpha Chi is a coeducational academic honor society designed to promote academic excellence and exemplary character among college students and to honor those who achieve such distinction. Only students who place in the top 10 percent of their class are invited to become members.
Students with membership in Alpha Chi help host activities on campus, including Academic Showcase Day, an annual event in the spring that highlights student achievement.
The Hastings College chapter was established in 1949 by Frank Weyer and Ruth Harris. Weyer was dean of the College at the time and Harris was the librarian.
This year's new members include:
Holly Bosley, a sophomore of Longmont, Colorado, majoring in biology.
Sam Johnson, a sophomore of Hastings, Nebraska, majoring in history and philosophy.
Emily Krolikowski, a sophomore of Cairo, Nebraska, majoring in health systems.
Hallie Murray, a sophomore of Hastings, Nebraska, majoring in elementary education.
Jayda Paul, a sophomore of North Platte, Nebraska, majoring in psychology and biology.
Makenzie Peters, a sophomore of Wood River, Nebraska, majoring in health systems.
Ali Smith, a sophomore of Ord, Nebraska, majoring in biology.
Hastings College is Nebraska's premier private college. A four-year residential college that focuses on student academic and extracurricular achievement, Hastings' student-centered initiatives include providing books, an iPad Pro and a two-week study abroad experience at no additional cost. A block-style semester schedule allows professors and students to focus on fewer classes at a time and promotes hands-on experiences. Discover more at hastings.edu.