Seraph Brass, a dynamic ensemble drawing from a roster of America's top female brass players and winners of the 2019 American Prize in Chamber Music, will perform at Hastings College at 7:30 p.m. on Wednesday, February 26. The performance, in Perkins Auditorium in Fuhr Hall, is free and open to the public.
In addition to the concert, the group will conduct masterclasses for students. One masterclass, at 1:00 p.m., will focus on careers, and the second, at 3:30 p.m., will focus on performance. The masterclasses are also in Perkins Auditorium and free and open to the public.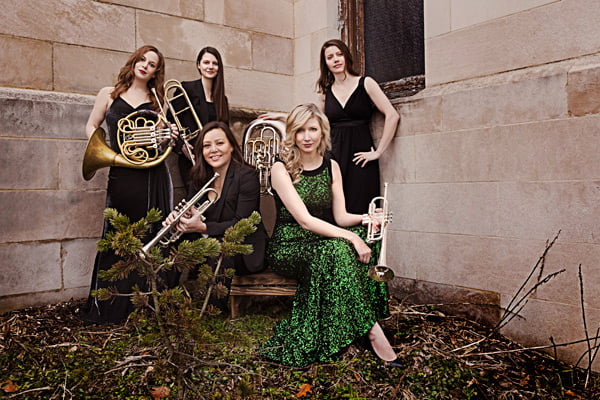 Committed to engaging audiences with captivating programming, Seraph Brass presents a diverse body of repertoire that includes original transcriptions, newly commissioned works and well-known classics. Seraph released their debut studio album, Asteria, on Summit Records in January 2018, winning a Silver Medal Global Music Award. Seraph Brass is in residency at the Walton Art Center's Artosphere Festival, alongside the Dover Quartet, in the festival orchestra.
The masterclasses and performance were funded by a Hastings College Foundation Board Trustee Innovation Grant.
Seraph Brass has toured extensively throughout the United States, China, Mexico and Europe. Featured performances of Seraph's 2019-20 touring schedule include a sextet recital at the International Trumpet Guild Conference in Miami, performances at the Busan Maru International Music Festival in Korea and a residency at the Interlochen Arts Academy.
Committed to introducing new works into the chamber music repertoire for brass, Seraph Brass commissioned and premiered Wolf for solo soprano and brass quintet from Philadelphia-based composer Joseph Hallman. In its efforts to promote the work of women composers, Seraph has commissioned new works by Catherine McMichael and Rene Orth, both featured on the album Asteria. Seraph also premiered Lucy Pankhurst's Ouroboros, with euphonium soloist Hélène Escriva, at the International Women's Brass Conference. In addition to these original works, Seraph also has many original arrangements by trumpeter Jeff Luke featured on Asteria and Seraph Brass Live!
Hastings College is Nebraska's premier private college. A four-year residential college that focuses on student academic and extracurricular achievement, Hastings' student-centered initiatives include providing books, an iPad Pro and a two-week study abroad experience at no additional cost. A block-style semester schedule allows professors and students to focus on fewer classes at a time and promotes hands-on experiences. Discover more at hastings.edu.