The work of four senior art majors make up the second thesis show this year in the Hastings College Jackson Dinsdale Art Center (JDAC). The exhibition opens today (May 2) and runs through May 13 in both JDAC galleries, which are open from 9:00 a.m. through 5:00 p.m. Monday through Friday. A public lecture and reception for the exhibition is Sunday, May 8 from 2:00 to 4:00 p.m. in the Wilson Center Auditorium.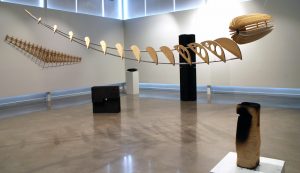 This exhibition features work from Sophia Carlson, a studio art major from Dannebrog, Nebraska; Christian Hessler, a studio art and computer science double major from Hastings, Nebraska; Zach Hole, a studio art major from Wichita, Kansas; and Karsen Sears, a studio art major from Westcliffe, Colorado.
Carlson's work, titled "Short Stories," features a series of three video shorts that explore the "adventures and domestic obligations of a group of private detectives, fashion models, mercenaries and a pyromaniac coexisting within a laissez fare society recovering from a stalemate war against a tyrannical regime."
Hessler uses glass and fiber optic cable for his project, which is titled "Exulansis." He said the project explores concepts of communication and network. "By allowing the audience to step into this immersive experience, it allows them a chance to explore a causal relationship between myself and the work," he said.
"Flight" by Hole is an abstract representation balancing art and engineering to create large-scale sculptures from wood and aluminum, while paying homage to his family's history in the field of aviation.
Sears said she is a maker, and her project, titled "Blaze," is grounded in timber sculpture and the intentional act of burning, which she based on intuition. "In stating this I'm not saying my work speaks for itself. But rather, I am unable to adequately do so myself. This leaves me with a burning passion to keep making in hopes that someday I will be able to do so," she said.
Hastings College is a four-year residential college that focuses on student academic and extracurricular achievement. Hastings' student-centered initiatives include providing books, an iPad and a two-week study away experience at no additional cost. A block-style semester schedule allows professors and students to focus on fewer classes at a time and promotes hands-on experiences. Discover more at hastings.edu.