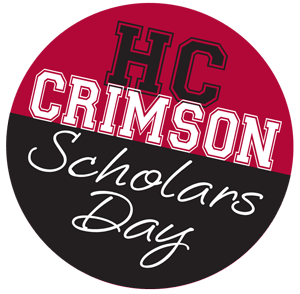 On February 8, 2015, students from ten states competed for Hastings College's top academic scholarship – the Walter Scott Scholarship. This full-tuition scholarship was awarded to two students:
Carly Cremers of Columbus, Nebraska, and
Lyndsay Ruane of Colorado Springs, Colorado.
To qualify for what is known as the Crimson Scholars Day competitions, students must earn a score of 26 or higher on the ACT,  maintain a 3.75 grade point average or higher, and be accepted to Hastings College. Students interview with Hastings College faculty and staff and are assessed on both their academic and leadership potential.
The awards below are in addition to the $14,000 Crimson Scholarship these students had already received based on their academic achievement.
Walter Scott Scholarship — $12,110
Trustee Scholarship — $9,000
President Scholarship — $8,000
Provost Scholarship — $7,000
Dean Scholarship — $5,000
SCHOLARSHIP AWARDEES
Colorado
Broomfield
Ben Pinkerman, Peak to Peak Charter School, Dean Scholarship
Colorado Springs
Nathan Starke, Widefield High School, Dean Scholarship
Lyndsay Ruane, Liberty High School, Walter Scott Scholarship
Denver
Emma Franklin, Rocky Mountain School, Dean Scholarship
Elbert
Daniel Garnhart, Peyton High School, Dean Scholarship
Evans
Matthew Villarreal, Greeley Central High School, Dean Scholarship
Firestone
Avery Sears , Mead High School, Dean Scholarship
Highlands Ranch
Kenzie Haberkorn, Mountain Vista High School, President Scholarship
Kendall Hein, Skyview Academy, Trustee Scholarship
Jenna Jaeger, Thunderridge High School, Trustee Scholarship
Alexandria Van De Walker, Skyview Academy, Trustee Scholarship
Littleton
Kyle Ferris, Columbine High School, Provost Scholarship
Mancos
Samuel Fleitz, Mancos High School, Dean Scholarship
Andie Paschal, Mancos High School, Provost Scholarship
Northglenn
Rebecca Roper, Northglenn High School, Dean Scholarship
Strasburg
Jonathan Wallace, Strasburg Jr.-Sr. High School, Dean Scholarship
Thornton
Tyler Moore, Horizon High School, Provost Scholarship
Woodland Park        
Jenny Sells, Woodland Park High School, Dean Scholarship
Kansas
Lawrence
Jamie Ortiz, Lawrence High School, President Scholarship (honorary)
Newton
Jerod Fox, Newton High School, President Scholarship (honorary)
Michigan
LeRoy
Mary Ware, Pine River Area School, Dean Scholarship
Missouri
Warrensburg
Nathaniel Miller, Warrensburg Senior High School, Dean Scholarship
Nebraska
Ainsworth
Kirsten Gilliland, Ainsworth High School, Dean Scholarship
Alliance
Bethany Baker, Alliance High School, Dean Scholarship
Bartlett
Emalee Kasperbauer, Wheeler Central Schools, President Scholarship
Beaver City
Joslyn Ballou, Southern Valley Jr.-Sr. High School, President Scholarship
Bennington
Naomi Bernal, Elkhorn South High School, Dean Scholarship
Broken Bow
Wheeler Walz, Broken Bow High School, Dean Scholarship
Central City
Tyler Djernes, Central City High School, Dean Scholarship
Clarks
Jabe Wurtz, High Plains Community High School, Dean Scholarship
Clarkson
Jena Schmitz, Clarkson Public School, Dean Scholarship
Columbus
Carly Cremers, Scotus Central Catholic High School, Walter Scott Scholarship
Cozad
Jason Finnegan, Cozad City School, Dean Scholarship
Crete
Amelia Roth, Crete High School, President Scholarship
David City
Davianne Czarnick, David City High School, President Scholarship
Daykin
Blair Hofstetter, Meridian High School, Dean Scholarship
Deshler
Ashton Oakman, Deshler Public School, Dean Scholarship
Doniphan
Lexi Hoffman, Doniphan-Trumbull High School, Trustee Scholarship
Elkhorn
Joshua Lohr, Elkhorn South High School, President Scholarship
Exeter
Jordyn Brandt, Exeter-Milligan Public Schools, Dean Scholarship
Fullerton
Noelle Matthew, Fullerton High School, Dean Scholarship
Gering
Carolyn Howton, Gering High School, Dean Scholarship
Gothenburg
Alayna Collins, Gothenburg High School, Trustee Scholarship
Grand Island
Miranda Scoggins, Grand Island Senior High School, Dean Scholarship
Gretna
Nathan Skrdla, Gretna High School, Dean Scholarship
Harrington
Amber Leise, Cedar Catholic High School, Dean Scholarship
Hastings
Giberto Garcia Barraza, Hastings Senior High School, Dean Scholarship
Adam Hartman, Hastings Senior High School, Dean Scholarship
Sarah Johnson, Hastings Senior High School, Dean Scholarship
Samantha Karr, Adams Central Jr.-Sr. High School, Dean Scholarship
Hannah Knapp, Hastings Senior High School, Dean Scholarship
Marisa Najera, Hastings Senior High School, Dean Scholarship
Albert Pedroza, Hastings Senior High School, Dean Scholarship
Samuel Roth, Hastings Senior High School, Dean Scholarship
Andrew Rutt, Hastings Senior High School , Dean Scholarship
Jade Spady , Adams Central Jr.-Sr. High School, Dean Scholarship
Brittani Wiseman, Adams Central Jr.-Sr. High School, Dean Scholarship
Brenda Tran, Saint Cecilia High School, President Scholarship
Hebron
Rachel Heitmann, Thayer Central High School, Provost Scholarship
Hickman
Sierra Nelson, Lincoln East High School, Trustee Scholarship
Holdrege
Bethanie Pafford, Loomis Public School, Dean Scholarship
Jenna Gillespie, Holdrege High School, President Scholarship
Juniata
Melody O'Callaghan, Saint Cecilia High School, Dean Scholarship
Kearney
Mark Carter, Kearney High School, Dean Scholarship
Jessie Harris, Kearney High School, Dean Scholarship
Brianna Miller, Kearney High School, Dean Scholarship
Nathan Howe, Kearney Catholic High School, Provost Scholarship
Kenesaw
Chance McKimmey, Kenesaw High School, Dean Scholarship
LaVista
Anthony Ripa, Papillion-LaVista High School, Dean Scholarship  
Lincoln
Tyler Nelsen, Lincoln Northeast High School, Dean Scholarship
Trey Seibel, Lincoln Southwest High School, Dean Scholarship
Alex Stogdill, Lincoln North Star High School, Dean Scholarship
Grant Baker, Lincoln North Star High School, President Scholarship
McKenzie Currey, Lincoln North Star High School, Provost Scholarship
Anthony Patton, Lincoln Southwest High School, Provost Scholarship
Mandy Amberg, Lincoln North Star High School, Trustee Scholarship
Litchfield
Shawna Paitz, Litchfield Public High School, Dean Scholarship
Norfolk
Geena Piper, Norfolk Catholic Senior High School, Trustee Scholarship
North Platte
Rebekah Thimes, North Platte High School, Dean Scholarship
Gabrielle Brumfield, North Platte High School, Trustee Scholarship
Omaha
Makenna O'Neal, Millard West High School, Dean Scholarship
Tatum Stenger, Millard South High School, Dean Scholarship
Evan Hoylma, Millard South High School, Provost Scholarship
Mason Wright, Elkhorn South High School, Provost Scholarship
Kyrie Kellogg, Omaha North High Magnet School, Trustee Scholarship
Phillips
Alexa Stauffer, Aurora High School, Dean Scholarship
Red Cloud
Wyatt Bell, Red Cloud High School, Dean Scholarship
Sidney
Savanna Rosenbaum, Sidney High School, Dean Scholarship
St. Paul
Grant Jerabek, St. Paul Public High School, Dean Scholarship
Wahoo
Lauren Kastane, Wahoo High School, Dean Scholarship
Yutan
Marc Sisson, Concordia Lutheran Jr.-Sr. High School, Provost Scholarship
Oklahoma
Newcastle
Alyssa Smith, Newcastle High Schoo, Dean Scholarship
Oregon
Corvallis
Taylor Kille, Crescent Valley High School, President Scholarship
Texas
Burleson
Jesse Warren, Burleson High School, Dean Scholarship
Virginia
Alexandria
Zoe Gildersleeve, T.C. Williams High School, Dean Scholarship
Wyoming
Gillette
Trey Larson, Campbell County High School, Dean Scholarship
Pine Bluffs
Scott Gross, Pine Bluffs High School, Dean Scholarship