A life-sized bronze statue of a riderless horse will be dedicated at Hastings College on Friday, October 4 at 10 a.m. in front of Lynn Farrell Arena (800 E. 12th Street). A memorial to the late Bobby Gottsch Jr., the statue is entitled "To Be a Difference Maker."
Hastings artist Dave Biehl '73, DVM, sculpted the bronze which was commissioned and donated by businessman Fred A. Bosselman.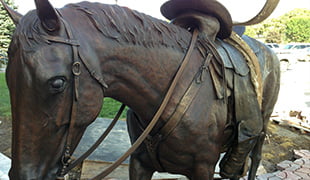 Dr. Biehl and Bosselman will join Hastings College President Don Jackson and Hastings College Board of Trustees Chair Hal Dittmer in making remarks at the event.
About Bobby Gottsch
The late cattleman and agri-business leader Bobby Gottsch (1954-2011) gave freely, and often quietly, of his time and resources to Hastings College.  For 16 years, he served as a Trustee, including nearly seven years as Vice Chair of the Board, and pushed Hastings College to think in terms and opportunities as vast as Nebraska's skies.
Gottsch left an outstanding legacy of seeking out and, through scholarships, investing in hard-working students with the potential to be difference makers in their communities and careers. His emphasis on equipping difference makers for success gave birth to the new sculpture's name – "To Be a Difference Maker."
Gottsch provided strong leadership and contributed significantly to all major Hastings College building projects in recent years, including the Osborne Family Sports Complex, which is home to the Robert Gottsch, Sr., Weight Training Room; the Morrison-Reeves Science Center; and the track facility. With his friend and then-fellow Trustee Jack Osborne '63, he founded the Hastings College Bronco Rodeo team, which already has experienced national success in its nine-year existence.
Significance of the Riderless Horse featured in "To Be a Difference Maker"
A tradition recorded well before the birth of Christ, the riderless horse symbolizes a warrior that, like the late Bobby Gottsch, Jr., will ride no more. Today, a riderless horse features black boots in reversed stirrups, representing the leader's last glance back at those being led. Most frequently the riderless horse is employed in funeral processions for US presidents, military personnel and the men and women of rodeo.
About the Artist: David Biehl, DVM of Hastings, Nebraska
Dr. Dave Biehl, or Doc as his friends call him, grew up on a farm in central Nebraska. It was this environment that led Doc to his fondness of all animals, but especially horses. He graduated from Hastings College in 1973 and then went on to graduate from the Kansas State University School of Veterinary Medicine in 1976 and has practiced in South Central Nebraska as a companion animal Veterinarian ever since. His knowledge of skeletal and muscle structure from his studies and years of practice is displayed in his sculptures. His attention to detail sets his sculptures apart from many of the other bronze art works.
Founded in 1882, Hastings College is a private, four-year liberal arts institution located in Hastings, Nebraska, that focuses on student academic and extracurricular achievement. With 64 majors in 32 areas of study and 12 pre-professional programs, Hastings College has been named among "America's Best National Liberal Arts Colleges" by U.S. News & World Report, a "Best in the Midwest" by The Princeton Review and a "Best Buy in College Education" by Barron's. Visit Hastings.edu for more.