Works by Shabnam Jannesari, a visiting instructor of art, are featured in the west gallery of the Hastings College Jackson Dinsdale Art Center now through December 3. The show, "Ribbons of Space," includes paintings and drawings created in the last two years.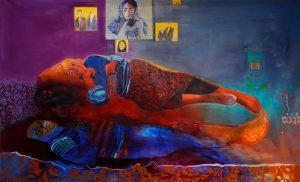 The JDAC galleries, at 700 E. 12th Street, are free and open to the public. Gallery hours are 9:00 a.m. to 5:00 p.m. Monday through Friday. Face masks are currently required inside the JDAC.
A reception for Jannesari is scheduled for 5:00 p.m. Tuesday, November 9 in the JDAC, with a brief talk beginning at 5:20 p.m. The reception is free and open to the public, and refreshments will be served.
For the show, Jannesari incorporates drawing and painting to explore a nostalgia of distant intimacies in her life. She illuminates the plight of the Iranian woman, censored by an overreaching patriarchy. Jannesari's paintings express her personal story, but they also reflect on the suppression of women across Iran. Jannesari's carefully composed figures empower the complex realities of Iranian female identity.
Jannesari is an Iranian artist who received her MFA with distinction in studio art at the University of Massachusetts, Dartmouth. She now teaches painting at Hastings College.
Hastings College is a four-year residential college that focuses on student academic and extracurricular achievement. Hastings' student-centered initiatives include providing books, an iPad and a two-week study away experience at no additional cost. A block-style semester schedule allows professors and students to focus on fewer classes at a time and promotes hands-on experiences. Discover more at hastings.edu.