To view a transcript of Ambassador Jackson's speech, click here (.pdf).
To view all of the 2015 Commencement exercises, click here for the video.
---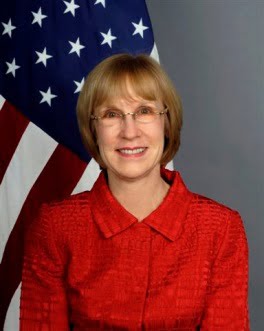 Entering the Foreign Service seems an odd career path for an art education major but not for 1971 Hastings College alumna Jeanine Jackson. As U.S. Ambassador to Malawi and Burkina Faso and a diplomat in Switzerland, Nigeria, Saudi Arabia, Hong Kong, Kenya, Afghanistan and Iraq, she connected with people through the arts. This included accompanying local choirs on the piano, dancing with women in remote villages and facilitating art exhibits at U.S. embassies.
Ambassador Jackson will share her insights from her rich career with Hastings College's 129th graduating class during the 2015 Commencement Exercises.
Commencement is scheduled for Saturday, May 16 at 10 a.m. in Lynn Farrell Arena (800 E. 12th Street). The event, which is free and open to the public, will be livestreamed at http://portal.stretchinternet.com/hcmediaonline.
For the College's Baccalaureate service on Friday, May 15, 2015, the Reverend Damen Heitmann, the College Chaplain, will serve as the featured speaker. The event will be held at 6 p.m. in First Presbyterian Church (621 N. Lincoln Ave.)
Additional information about these events can be found at hastings.edu/graduation.
Bio for the Honorable Jeanine Jackson '71, U.S. Ambassador (retired)
Jeanine Jackson is a retired Senior Foreign Service Officer and a retired Colonel of the U.S. Army Reserve serving as the Executive Director of the Foreign Service Institute. She was appointed as U.S. Ambassador to Malawi in 2011 where she led a $250 million development, governance and security assistance program.   As U.S. Ambassador to Burkina Faso from 2006-2009 she improved military cooperation and increased infrastructure and development assistance. She also served as a diplomat in Switzerland, Nigeria, Saudi Arabia, Hong Kong, Kenya, Afghanistan and Iraq.
Ambassador Jackson has been a key player in activities related to creating, adapting, rebuilding and reopening U.S. Embassies:  As Post Management Officer for the Soviet Union at the time of its dissolution, she managed from Washington and on the ground the establishment of U.S. Embassies in the 13 new countries left in its wake. In Afghanistan in 2001, Ambassador Jackson led the team that reopened the U.S. Embassy and then returned to Kabul in 2002 and served as the Embassy's Management Counselor until 2003.   From Kabul she went to Washington where she was the Department of State's Management Coordinator responsible for the Inter-Agency effort to reestablish the U.S. Embassy in Baghdad.  And as the U.S. military reduced its presence in Iraq in 2010-11, she spearheaded a multi-agency task force that planned and executed transition of support for the U.S. Embassy from Defense to State Department responsibility for which she received the Secretary's Distinguished Honor Award.
In Hong Kong she established programs to protect the interests of all U.S. Government civilian, military, and local employees at the time of the British Colony's reversion to Chinese sovereignty. In Kenya following the Al Qaeda bombing, she served as Supervisory General Services Officer of the largest Embassy in Africa and was key to reestablishing its operations and infrastructure.
Prior to entering the Foreign Service, Ambassador Jackson worked in Saigon as a civil service employee in the Office of the U.S. Defense Attaché and then served 10 years as an active duty Army officer, primarily in Germany and Korea.  She continued her military service for an additional 20 years as a reservist while pursuing her Foreign Service career.
Ambassador Jackson earned a Bachelor's Degree in Art Education from Hastings College, Nebraska followed by a Master's Degree in Business Administration.  She is an accomplished musician.  She met her husband Mark when they were both Army Lieutenants serving in Germany.  He is a retired colonel of the U.S. Army Reserve and is also a retired member of the Senior Foreign Service. Enamored of Africa's cultures, they have independently traveled more than 30,000 miles on the African continent.
Bio for the Reverend Damen Heitmann
Originally from Victor, Iowa — the haircut capital of the world — Damen Wesley Heitmann is 2005 graduate of Wartburg College. Following a year as an AmeriCorps VISTA member Damen attended United Theological Seminary of the Twin Cities from which he graduated in 2009. He is an ordained member of the United Church of Christ and served for four years as the pastor at First United Church in Little Falls, Minnesota.
Damen joined the Hastings College family in 2014 when he became the Chaplain to the college. In this capacity he leads weekly chapel services, works with student groups, coordinates special events such as Faith for Today, sends out silly emails and generally encourages people to consider their place in the universe. When not at the college, Damen spends his time keeping the cat from scratching the furniture, serving on the board of the Hastings Area Habitat for Humanity and keeping up the old monastic tradition of brewing beer.