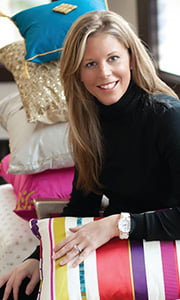 (Hastings, Neb.) – As the Hastings College community celebrates its 2013 Homecoming, alumni are returning to campus to share their stories and network with today's students – those following in their footsteps.
Among the special guests is Paula Queen (pictured), a 1998 Hastings College graduate and the founder of Pyar & Co., a Chicago-based luxury home accessories business (see her bio below). Ms. Queen, who has been named the 2013 Hastings College Outstanding Young Alumna, will speak on Friday, September 20 at 12:10 p.m. in Hazelrigg Student Union Rooms A&B (705 9th Street).
Joining her to discuss how a Hastings College prepared her for success as an entrepreneur will be Andrew Vrbas '12 of Hastings' own Pacha Soap. This event is free and open to the public.
Earlier in the day, other alumni will discuss their post-collegiate careers. The full schedule is below.
Playing the Game on a Different Field: Making Your Love of Sports a Career
10-11 a.m. The Legacy Room, Lynn Farrell Arena
Djorn Buchholz '02, Sporting KC
Brent Dierking '04, Brent Dierking Fitness
Mike McCoy, Nebraska Danger
Hastings College Alumni Teachers: Leading the Next Generation
10-11 a.m. French Memorial Chapel
Miranda Nanfito '08, Longfellow Elementary School
Mike Nanfito '05, Hastings High School 
Tamisha Osgood '06, Watson Elementary
The Art of Communication/The Communication of Art
10-11 a.m. Studio A, Gray Center for Communication Arts
Nate Steinbrink '98, Exhibits Curator, Southern Illinois University
Courtney Boyd '01, Glass Instructor, Southern Illinois University
Anthony May '09, Idea Bank
What Do You Do With An English Major?
10-11 a.m. McCormick Hall
Todd Fitzgerald '96, State Farm and Teach a Kid to Fish
Amanda Turner '03, Essential Speech Services, LLC
Alicia O'Donnell '96, Hastings College 
Keep Calm and Communicate On
10-11 a.m. Studio B, Gray Center for Communication Arts
Joel McDowell '90, My Lot Store
Aaron Blackman '09, University of Nebraska-Kearney
Wheels of Justice Keep Rolling On: Political Science Alumni
10-11 a.m. Board Room, Daugherty Center
Spencer Head '11, Office of U.S. Congressman Lee Terry (R-NE)
Jill Thayer Liliedahl '02, Nelnet Innovation Hub and Pop Art
Andy Butler '07, Adams County Attorney
Starlight Fonseca '09, Law Clerk/Legal Assistant
Careers of the Mind: Sociology and Psychology Alumni
10-11 a.m. #213 Morrison-Reeves Science Center
Pat Trader '03, Eli Lilly Pharmaceuticals
Andi Schueler '01, Clinical Psychologist
Mike Schmitz '85, U.S. Department of Justice
Catching the Bronco Entrepreneurial Spirit
12:10 – 1 p.m. HSU, Rooms A & B
Paula Queen '98, Pyar and CO
Andrew Vrbas '12, Pacha Soap
Bio for Paula Queen
As a student at Hastings College, 2013 Outstanding Young Alumna Paula Queen '98 gained the skills and preparedness needed to create a career path guided by her own passions and life experiences. The secondary English education major began her professional career as a High School English Teacher at Burke High School in Omaha. She later entered the corporate world for a successful 10-year career in business development, first working for firms in Nebraska and concluding as the Manager of Business Development for Higher Education Institutions and Federal Market with the 5th largest construction management firm in the U.S. In 2011, Paula launched her own business, Pyar & Co., inspired by a family trip to India to celebrate her marriage to her husband, Sumit Gupta. Pyar & Co. specializes in luxury accessories for the home as well as a children's collection. This year, Pyar & Co. was named "America's Great New Home Textile Company" by Home Textiles Today magazine. The company is based in Chicago, where Paula lives with her husband and their young son, Ojas.
Founded in 1882, Hastings College is a private, four-year liberal arts institution located in Hastings, Nebraska, that focuses on student academic and extracurricular achievement. With 64 majors in 32 areas of study and 12 pre-professional programs, Hastings College has been named among "America's Best National Liberal Arts Colleges" by U.S. News & World Report, a "Best in the Midwest" by The Princeton Review and a "Best Buy in College Education" by Barron's. Visit Hastings.edu for more.