Dr. Bradley Peterson, associate professor of physics at Hastings College, has been named president-elect of the Nebraska Academy of Sciences (NAS), a private foundation founded in 1880 that works to disseminate scientific knowledge and facilitate cooperation among scientists in Nebraska. He will serve in the role for a year, then serve as president of the organization for a year followed by two years as counselor.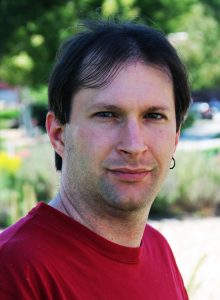 The president-elect is nominated, then voted on by NAS membership.
NAS awards scholarships and publishes research in the "Transactions of the Nebraska Academy of Sciences and Affiliated Societies." NAS is affiliated with the American Association for the Advancement of Science (AAAS) and the National Association of Academies of Science (NAAS). The group's key event, the NAS Annual Spring Meeting, is held in Lincoln, Nebraska, annually in April. This year the meeting included more than 200 presentations and nearly 400 attendees.
For many years, Hastings College physics students have presented at the Spring Meeting as part of their capstone course.
This year eight Hastings College physics students gave presentations. The students, many of whom graduated on May 13, are listed below.
Garrett Clasen of Casper, Wyoming —  "Converting a Bicycle into an Electric Bicycle to Reduce Toxic Emissions from Motor Vehicles"
Ryan Hunter of Aurora, Nebraska — "Designing a Blimp"
Lance High of Sanford, Florida —  "Creating a Musical Tesla Coil"
Jarron Martinez of Brighton, Colorado — "Electric Motorcycle"
Morgan McMeen of Broken Bow, Nebraska — "Design of a Remote Control Airplane and Testing Its Capability to Fly"
Tyler Rath of Thedford, Nebraska — "Detection of Exoplanet Candidate in TOI-1302 Star System via Transit Photometry"
Tyler Seeley of Parker, Colorado — "An Investigation of the Ruben Tube"
Ashton Valentine of Hastings, Nebraska — "Solar Panel Project"
As president-elect, Peterson will lead NAS meetings of the policy committee. When he becomes president, he'll be responsible for leading meetings of the board and executive committee, as well as organizing the Spring Meeting.
There have been three previous NAS presidents from Hastings College, including Dr. Harry James (1937–38), Dr. Clyde Sachtleben (1975–76) and Dr. Carl Throckmorton (1981–82).
Hastings College is a four-year residential college that focuses on student academic and extracurricular achievement. Discover more at hastings.edu.