Hastings College received a $7,457 grant from PepsiCo as a result of chemistry professor Dr. Neil Heckman's Environmental Science class last year. The funds will launch Broncos Recycle!, a campus-wide initiative for creating a more sustainable campus.
After hearing about the grant program through a FirstChoice vendor, Heckman knew it was something he wanted to pursue for the Hastings College campus. Heckman said several efforts to improve recycling on campus had setbacks, and Broncos Recycle! hopes to learn from past challenges.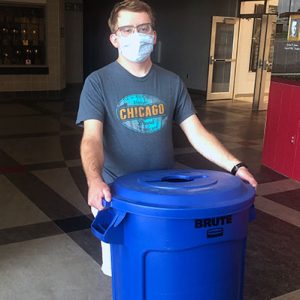 Grant funds allowed the College to purchase high-quality recycling containers for residence halls, classroom buildings and athletic facilities to make it easier for students and visitors to recycle plastic containers, plastic bottles, metal cans, newspapers, cardboard and paper. The recycling bins arrived last week and will be distributed around campus over the next two weeks.
By providing more bins, Heckman said it will make recycling easier, more accessible and a "norm" on campus.
Increasing recycling accessibility will foster an environmental mindset for a lifetime, he said, and increase students' awareness of sustainability issues. Broncos Recycle! also allows students to be involved, hold leadership positions and advocate for the entire student body.
"Broncos Recycle! will engage our students from 37 different states and 12 countries as well as campus visitors," Heckman said. "The project helps ensure our campus on the plains does its part toward a more sustainable planet."
Volunteers, students from environmental science courses and students in work-study jobs will collect recyclables from the bins.
Hastings College is Nebraska's premier private college. A four-year residential college that focuses on student academic and extracurricular achievement, Hastings' student-centered initiatives include providing books, an iPad and a two-week study away experience at no additional cost. A block-style semester schedule allows professors and students to focus on fewer classes at a time and promotes hands-on experiences. Discover more at hastings.edu.