The Order of Omega, a national leadership honor society for members of fraternity and sorority organizations, awarded Hastings College student Amanda Tyra with the Dr. Kent L. Gardner Scholarship. Tyra, of Thornton, Colorado, is a senior at Hastings College majoring human resource management and psychology. She also serves as co-president for the Alpha Phi Sigma sorority on campus.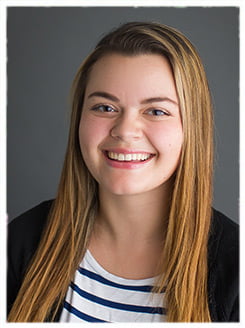 Every year since 1985, the Order of Omega has recognized the top three percent of juniors and seniors involved in Greek life across the nation. The scholarship program considers academic achievements, participation and leadership on campus and service to the Order of Omega. Tyra's scholarship is one of 135 offered by the national organization this year.
"We are very excited about Amanda's recognition by the Order of Omega. She is an outstanding role model for leadership and service on campus, and her achievements highlight the values of the Hastings College Greek organizations," said Kara Siedhoff, Hastings College Greek life advisor.
Hastings College is a private, four-year institution located in Hastings, Nebraska, that focuses on student academic and extracurricular achievement. With 64 majors and 15 pre-professional programs, Hastings College has been named among "Great Schools, Great Prices" by U.S. News & World Report and a "Best in the Midwest" by The Princeton Review. For more, go to hastings.edu.