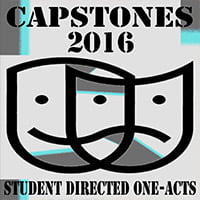 By directing one-act plays, Hastings College theatre majors in their junior or senior year have the opportunity to demonstrate all they have learned through their courses and as part of other productions. This experience, known as a capstone, is a significant undertaking — the kind of large project from which Hastings College students benefit when they graduate and move into careers in theatre and other fields.
For 2016, the capstone one-acts will be produced on Thursday, March 10; Friday, March 11; and Saturday, March 12 at 7:30 p.m. and on Sunday, March 13 at 2:30 p.m. All performances will be in Scott Studio Theatre (806 N. Turner Ave.) General admission tickets are $7 while seniors and students can purchase tickets for $5. Admission is free for Hastings College students, faculty and staff and for Crimson Connection members.
To reserve tickets, contact tickets@hastings.edu or call the box office at 402.461.7380 starting on Thursday, March 3.
These plays contain mature subject matter.
CAPSTONES 2016: An Evening of One-Act Plays
DON'T LOOK DOWN-By Jay Folb
Directed by: Tyler Donovan of Broomfield, Colorado
Paul- Dodge Weishaar of Bison, South Dakota
Adele- Carly Creamers of Columbus, Nebraska
Silvia- Laurel Teal of Castle Rock, Colorado
Officer- Alyssa Rock of Denver, Colorado
Morty- Barrett Russell of Saronville, Nebraska
Dr. Wright- Nate Mohlman of Blue Hill, Nebraska
Stage Manager – Elfie Forbes of Aurora, Colorado
Costumes – Amanda Miller of Woodland Park, Colorado
Props- Miranda Aschroff of Hastings, Nebraska
THE NEW PLAY- by William Saroyan
Directed by: James Bachman of Thornton, Colorado
The Writer- Nathanael Sass of Hastings, Nebraska
The Secretary- Emma Atuire of Denver, Colorado
Dinah- Carly Creamers of Columbus, Nebraska
Folger- Colt Hoselton of Juniata, Nebraska
"Abe"- Austin Phillips of North Platte, Nebraska
Professor Of Everything- Dodge Weishaar of Bison, South Dakota
Stage Manager – Shane Schultz of Hastings, Nebraska
Costumes – Ginger Ball of Marysville, Washington
Props- Rachel Garn of Broomfield, Colorado
Run Crew- Barrett Russell (Head) of Saronville, Nebraska
Arthur Pettigrew of Valentine, Nebraska
Anna Flairty of Omaha, Nebraska
WHY?- by Hannah Conlon
Directed by: Hannah Conlon of Lisburn, Northern Ireland, United Kingdom
Niamh- Sabrina Maxwell of North Richland Hills, Texas
Siobhan-Cami Sharratt of Savage, Minnesota
Finn- Alex Rieflin of Doniphan, Nebraska
Jack- Colt Hoselton of Juniata, Nebraska
Stage Manager – Randy Scoggins (Understudy) of Grand Island, Nebraska
Costumes – Rosa Ochoa of Holyoke, Colorado
Props- Austin Heinlein of Hutchinson, Kansas
Joe Prickett of Hastings, Nebraska
CREW HEADS
Scenic– Nate Mohlman of Blue Hill, Nebraska
Cheyenne Knehans of Riverton, Nebraska
Lighting – Mason Lindbloom of Omaha, Nebraska
Costumes/Make-Up – Rebecca Holcomb of Parker, Colorado
Rebecca Ralston of Sutherland, Nebraska
Sound– Alex Dominguez of Grand Island, Nebraska
Jordan Samuelson of Kearney, Nebraska
Public Relations – Anna Flairty of Omaha, Nebraska
Box Office/House Manager – Jordan Samuelson of Kearney, Nebraska