The Hastings College chapter of Omicron Delta Kappa (ODK), a national leadership honor society, welcomed 18 new members at its annual induction ceremony in January.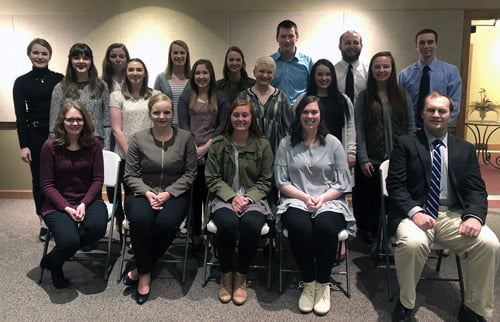 To be inducted into ODK, membership qualifications include being in the top 35 percent of juniors and seniors classes and demonstrate exemplary character. ODK encourages collaboration among members across the five phases celebrated by ODK: scholarship, athletics, service, communications and the arts.
ODK honors and develops leaders through scholarships, workshops, career opportunities, leadership resources and a lifelong connection to other members.
Hastings College initiates for 2018-19 include:
Hannah Adams of Cairo, Nebraska
Greer Anderson of Peyton, Colorado
Celeste Borg of Centennial, Colorado
Dany Cook of Fairfield, California
McKenzie Currey of Lincoln, Nebraska
Kaelan Dea of of Greenwood, Nebraska
Lauren Feden of of Papillion, Nebraska
Jason Finnegan of Cozad, Nebraska
Bree Fluckey of Juniata, Nebraska
Megan Kaiser of Sterling, Colorado
Jessica Klaudt of Ashland, Nebraska
Natalie Knott of Louisville, Nebraska
Nolan Kohmetscher of Hastings, Nebraska
Brittney Loney of Omaha, Nebraska
Melissa Loney of Omaha, Nebraska
Mariah Seip of Papillion, Nebraska
Marc Sisson of Yutan, Nebraska
Jessica Trad of Hewitt, Wisconsin
Hastings College is a private, four-year institution located in Hastings, Nebraska, that focuses on student academic and extracurricular achievement. Hastings College has been named among "Great Schools, Great Prices" by U.S. News & World Report and a "Best in the Midwest" by The Princeton Review. For more, go to hastings.edu.