The Hastings College Art Gallery is hosting the first of three Art Senior Thesis exhibitions, kicking off with lecture presentations on Sunday, March 13 at 2 p.m. in the Wilson Auditorium (714 E. 9th St.) followed immediately by a reception in the Hastings College Art Gallery (711 E. 7th St.). The first exhibition, featuring sculptures by Hastings College art students Kate Laing and Tim Rickett, will be shown through April 1.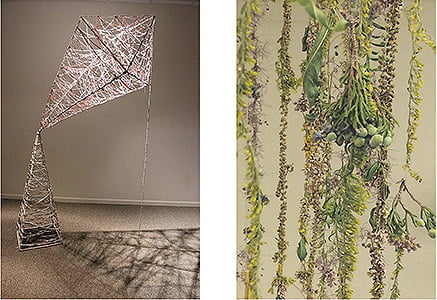 Kate Laing is a native of Omaha, Nebraska, and in addition to her art produced through the college has also independently illustrated a children's book, Rachel the Raccoon's Camp Adventure. Her art thesis show is entitled, "To a Place Where Hand Is in Everything," and consists of organic materials suspended from a ceiling.
"This is a non-traditional sculptural installation that, though placed in an interior space, could be imagined as hidden deep in a forest," said Laing. "At first, viewers may believe what is seen is naturally occurring. With further exploration, however, they will realize that the human hand is intricately collaborating with nature."
Tim Rickett is native of Sutherland, Nebraska, and has had his art featured in both domestic and international markets. The title of his show is "Time is a line, lined with lines," and is in part inspired by the work of the German artist Anke Becker. The 21 sculptures are composed of yarn and plaster fixed to metal armatures.
"I have created a body of work based off of the ever present aspect of time and the fundamental power and beauty of line," Rickett said.
The lecture presentations and reception are both free and open to the public. Regular gallery hours are 8:30 a.m. – 4 p.m., Monday – Friday.
Note: The second and third installments of the Hastings College Art Senior Theses will be April 4-22, and April 25-May 14. Additional details on presentations and receptions will follow at a later date.
Hastings College is a private, four-year institution located in Hastings, Nebraska, that focuses on student academic and extracurricular achievement. With 64 majors and 15 pre-professional programs, Hastings College has been named among "Great Schools, Great Prices" by U.S. News & World Report, a "Best in the Midwest" by The Princeton Review and a "Best Bang for the Buck" school by Washington Monthly.