As part of its first-year programming, students new to Hastings College will participate in a food drive on behalf of the Adams County Food Pantry.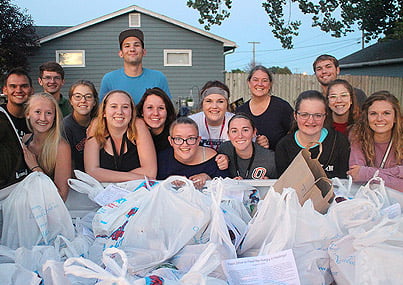 The three-part service learning project carries on a tradition of community service that has been integral to the College's orientation activities for many years.  
Students will deliver plastic bags to households throughout Hastings on Sunday, August 27. Students will return to pick up the bags on Wednesday, August 30 from 7:00 to 8:30 p.m.
All items will be collected at the College, weighed and delivered to the Adams County Food Pantry in the week following pick up. The goal is to donate more than the 7,600 pounds of items that were donated to the pantry last year during the service project.
Donations may include any non-perishable food, hygiene and household items. Examples of acceptable donations include:
Peanut Butter
Jelly
Spaghetti
Spaghetti Sauce
Potatoes—Boxed and Instant
Cereal
Jell-O
Hamburger Helper
Tuna Helper
Ramen Noodles
Macaroni and Cheese
Crackers
Soup
Canned Fruit
Canned Vegetables
Pancake Mix
Syrup
Tuna
Dish Soap
Bath Soap
Toilet Tissue
Shampoo
The Adams County Food Pantry asks donors to check expiration date, as the organization cannot accept expired items.
Hastings College is a private, four-year institution located in Hastings, Nebraska, that focuses on student academic and extracurricular achievement. With more than 60 majors and 15 pre-professional programs, Hastings College has been named among "Great Schools, Great Prices" by U.S. News & World Report and a "Best in the Midwest" by The Princeton Review. For more, go to hastings.edu.