Drawn from 150 artist applications across 39 states, "Memory Palace" opens at the Hastings College Jackson Dinsdale Art Center (JDAC) March 1. The exhibition, themed around nostalgia, history and domestic spaces, follows a national open call for art last fall. It is the first national juried exhibition at the JDAC.
Kate Mothes, founder of Young Space, juried the show and selected 24 pieces by 21 artists, with work representing media such as painting, drawing, photography, sculpture and textiles.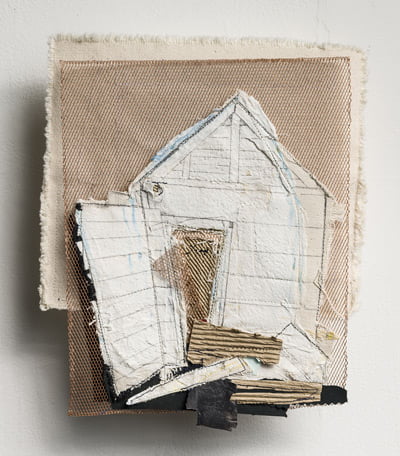 A reception for the exhibition is Friday, March 1 from 6:00 to 7:30 p.m. at the JDAC. The exhibition is open from March 1 through March 27. Regular gallery hours are Monday through Friday from 9:00 a.m. to 5:00 p.m., plus 5:00-8:00 p.m. Wednesdays, and Saturdays from 10:00 a.m. to 1:00 p.m.
Creating "Memory Palace" generated national interest in the JDAC's state-of-the-art exhibition spaces, in addition to submission fees providing capital to fund visiting artists and other special projects in the future.
In addition to providing the Hastings College community with access to a diverse group of artists from across the United States, the marketing of the exhibition reached tens of thousands of Instagram users through a strategic collaboration with Mothes.
Artists accepted into the exhibition include:
Tania Alvarez from New York
Becky Bailey from New Jersey
Ty Barnes from Arkansas
Heather Beardsley from Virginia
Andy Brown from Florida
Selvaggio Dordetti from California
Anne Dovali from Nebraska
Guillermo Gutierrez form Texas
Christine Han from California
Molly Hassler from Wisconsin
Ali Hval from Iowa
Taylor Loftin from Arkansas
Daina Mattis from New York
Alex McClurg from Alabama
Kyle Nobles from Minnesota
Jaime Pattison from Ontario, Canada
Haley Prochnow from Illinois
Hannah Smith from Kentucky
Aaron Tinder from Iowa
Claire Whitehurst from Iowa
Garett Yah from Massachusetts
Mothes is an innovative and Insta-famous curator who, through Young Space, highlights the artwork of emerging and mid-career artists. Young Space provides its followers with access to fresh, vibrant and contemporarily relevant artwork on a daily basis.
In addition to managing the digital venue Young Space, Mothes has produced or curated exhibitions at physical locations such as James May Gallery, Algoma, Wisconsin; Morgan Fine Arts & Film Center, Brooklyn, New York; Philip J. Steele Gallery at RMCAD, Denver, Colorado; and The School of the Alternative (formerly the Black Mountain School) in Black Mountain, North Carolina. Her forthcoming exhibitions and projects include Contemporary Visions at Beers Gallery, London; and Painting Programme at Assembly House, Leeds, England.
Hastings College is a private, four-year institution located in Hastings, Nebraska, that focuses on student academic and extracurricular achievement. Hastings College has been named among "Great Schools, Great Prices" by U.S. News & World Report and a "Best in the Midwest" by The Princeton Review. For more, go to hastings.edu.