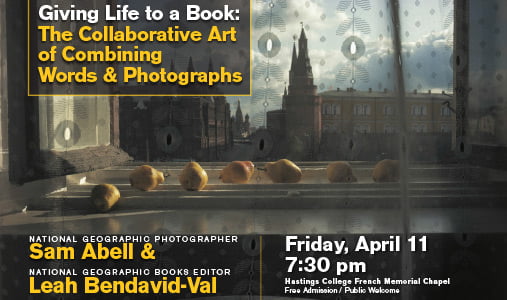 National Geographic photographer Sam Abell and National Geographic Books Director Leah Bendavid-Val will speak at Hastings College in the French Memorial Chapel at 7:30 p.m. on April 11.  The lecture is free and open to the public.
"Mr. Abell is one of the legendary National Geographic photographers, and his numerous collaborations with Ms. Bendavid-Val have resulted in some of the most moving and important photography texts of the last 30 years," said Brett Erickson, associate professor of journalism and media arts.  "Both are tremendously inspirational speakers, so the keynote should a pivotal event for anyone interested in photography and publishing in Central Nebraska."
Abell and Bendavid-Val are in Hastings to conduct a faculty-student photography workshop on April 11 at the Gray Center for Communication Arts.
Bio for Sam Abell
Sam Abell's forty-year career has been dedicated to achieving artistic expression through documentary photography.  He has pursued his goals primarily through his lengthy, in-depth coverages for National Geographic magazine and its Book Division.  At the same time, he has maintained a career as an artist, teacher, and author.
Abell has been photographing for National Geographic since 1970, and has been featured in the magazine more than 20 times, including the cover.  His work has included articles on Lewis and Clark, the Mississippi River, Newfoundland, the U.S. Constitution and Leo Tolstoy.  He has also published ten books, including Lewis and Clark: Voyage of Discovery with the late author Steven Ambrose.
In 1990, Mr. Abell's work was the subject of a one-man exhibition at the International Center of Photography, New York City.  A companion book, Stay This Moment, was published at that time.
In addition to his photography Mr. Abell is a member of the board of the director of the Santa Fe Center For Photography, the George Eastman House, and the University of Virginia Art Museum. 
Bio for Leah Bendavid-Val
Leah Bendavid-Val is a historian of photography and former Director of Photography Publishing for National Geographic Books. Books published in her program for popular and professional audiences have been translated into more than a dozen languages. Bendavid-Val is author of two books on the history of National Geographic photography—Stories on Paper & Glass (2001) and the best-selling National Geographic: The Photographs (1994), which is still in print. She is co-author and editor of National Geographic Image Collection, on the New York Times Bestseller List in December 2009.
Bendavid-Val is the author most recently of Song Without Words: The Photographs & Diaries of Countess Sophia Tolstoy (published in October 2007). Her two earlier books about Russian photographers and themes are Propaganda & Dreams (1999); and Changing Reality (1991). Based on her Russia and National Geographic work, Leah Bendavid-Val has served as curator for exhibitions at the International Center for Photography, New York, the Corcoran Gallery of Art, Washington DC, the Pushkin Museum, Moscow, and other museums. She teaches writing and book publishing for photographers at the Santa Fe Workshops in New Mexico.