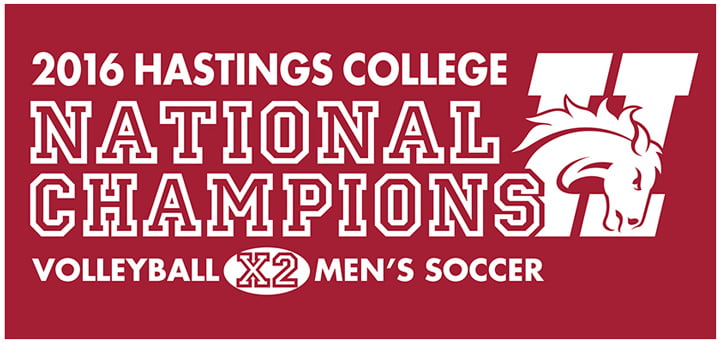 Following the achievement of winning two national championships on the same day, Hastings College is ready to throw open its doors to celebrate the successes of its volleyball and men's soccer teams with Bronco fans near and far.
All are invited to the Hastings College Broncos National Champions x2 Celebration this Saturday, December 10. The celebration begins immediately after the Bronco men's and women's basketball doubleheader at Lynn Farrell Arena—or approximately 5:30 p.m. For those who can't attend, the celebration will be livestreamed at https://portal.stretchinternet.com/hastings/.
As part of the celebration, admission to both basketball games will be free for the day. The Bronco women's game begins at 2:00 p.m., while the men's game tips off at 4:00 p.m. Photo opportunities with the championship trophies and Hastings College team jerseys to wear will be available in the Legacy Room at the arena during the games.
The planned celebration comes following "Championship Day" for the College on Saturday, December 3. That's the day the Hastings College Broncos earned 2016 NAIA Championships in men's soccer and volleyball. It was the second championship for men's soccer team and first for volleyball.
"Saturday was unbelievable. I am so proud of what our scholar-athletes have accomplished at Hastings College," said Don Jackson, President of Hastings College and a 1970 graduate. "It is a great feeling to see them realize the goals they set at the beginning of their seasons. To win a national title is an outstanding accomplishment, and it is an experience they will cherish and carry with them for the rest of their lives."
A 1959 Hastings College alumnus with expertise in winning national championships also weighed in the achievements.
"I know from personal experience how hard it is to end  the season with a national championship," said Dr. Tom Osborne, who earned three national titles as head coach of the University of Nebraska–Lincoln Cornhuskers.
"It requires exceptional talent, team cohesiveness, tenacity and sometimes a little good fortune along the way to finish on top. Congratulations to the volleyball team and the men's soccer team on your extraordinary accomplishments. Hastings College students, faculty and alumni are all very proud of you," said Osborne, who is co-founder of Teammates Mentoring Program and former Member of Congress.
Hastings College is a private, four-year institution located in Hastings, Nebraska, that focuses on student academic and extracurricular achievement. With 64 majors and 15 pre-professional programs, Hastings College has been named among "Great Schools, Great Prices" by U.S. News & World Report and a "Best in the Midwest" by The Princeton Review. For more, go to hastings.edu.