Dr. Nicole Muszynski, Hastings College professor of psychology and sociology, was recently awarded the Frank A. Beach Comparative Psychology Award for her research and writing on honeybees.
The award is given annually to the best paper published in the Journal of Comparative Psychology. Muszynski's paper, "Category difference facilitates oddity learning in honeybee (Apis mellifera)," was published in May 2020 and discusses honeybee cognition — the ways in which honeybees learn and process information.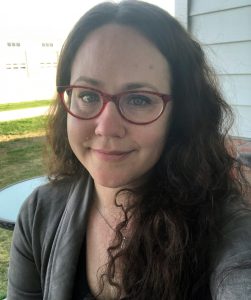 Research suggests that honeybees and other invertebrates are not only able to learn, but also able to solve more challenging problems, previously believed only able to be solved by primates. With simple and complex organisms showing similarities in memory and problem solving, this suggests that both types of organisms might actually share the same basic nervous system structure. Muszynski continued this research to begin to further understand the similarities and differences between the brains of diverse evolutionary species.
"Our research found that bees are able to learn about concepts like 'odd,' and were able to quickly learn how to distinguish what is odd or different within a set of stimuli, even when presented with a variety of positions, shapes, and colors," Muszynski said. "In the experiment, bees were trained to visit a laboratory window where they were rewarded with sugar water when choosing the odd stimulus offered. The results of each group showed that bees were able to solve problems on the basis of same versus different, as well as color versus pattern. This is huge considering honeybees are the only invertebrate species to ever demonstrate any sort of relational learning. It makes me excited to think of the possibilities for the future of this research."
Muszynski, who is in her first year at Hastings College,said she hopes to collaborate with students while she continues her research of honeybee cognition.
Muszynski collaborated with P.A. Couvillon on the paper when both worked for the Pacific Biosciences Research Center in Hawaii.
The Frank A. Beach Comparative Psychology Award is named in honor of Frank Beach, a premier psychologist of the 1950s, known for his studies of sexual behavior and for establishing the field of behavioral endocrinology. After retiring from Yale University and University of California-Berkeley, he was elected to the National Academy of Sciences, the American Philosophical Society and the American Academy of Arts and Sciences, was awarded the Distinguished Scientific award and the Howard Crosby Warren Medal of the Society of Experimental Psychologists.
Hastings College is a four-year residential college that focuses on student academic and extracurricular achievement. Hastings' student-centered initiatives include providing books, an iPad and a two-week study away experience at no additional cost. A block-style semester schedule allows professors and students to focus on fewer classes at a time and promotes hands-on experiences. Discover more at hastings.edu.