After going virtual for last year's competition, Hastings College will host more than 200 high school students from 37 schools across Nebraska in-person for the sixth annual Jackson Dinsdale Art Center Mural Competition on Wednesday, September 8.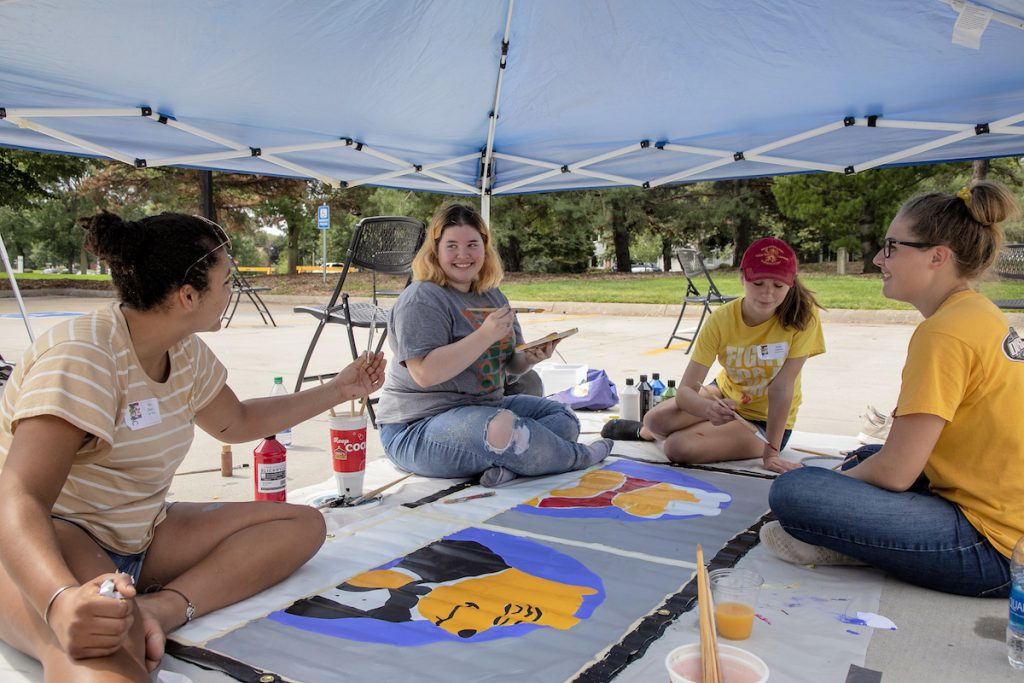 Working as teams, high school students from each school will create 46 x 76 inch vinyl murals using paint, which will then be judged by Hastings College senior art majors. The creative theme for the competition is kept a secret until just before students begin. It's a challenging and fun event for the students!
Teams design and create their artwork outdoors in the parking lot between the JDAC and Gray Center.
Students with the top mural will be offered their own gallery show at the JDAC on campus and receive a custom trophy created in the JDAC's world-class studios that can be placed at their school. Second and third place mural teams will also receive a custom trophy created in the JDAC.
At the conclusion of the event, schools will be allowed to take the murals to hang in their high schools.
What: Hastings College Mural Competition
When: Wednesday, September 8
Time: 10:00am-3:30pm; painting is 10:30am to 2:00pm (the best time for photos/video/interviews is 12:30 to 2:00pm); awards are at 3:00pm.
Where: Jackson Dinsdale Art Center, 700 E. 12th St., Hastings, Nebraska
Why: 200+ students from 37 high schools will compete in a mural painting competition
High schools participating include:
Adams Central High School
Ainsworth Community Schools
Alma High School
Bellevue East High School
Bellevue West High School
Blue Hill High School
Brady Public Schools
Columbus High School
Crete High School
Doniphan-Trumbull High School
Elm Creek High Schools
Elwood High School
Freeman High School
Giltner High School
Grand Island Northwest High School
Grand Island Senior High
Hampton High School
Hastings Public High School
Heartland Public Schools
Kearney High School
Kenesaw High School
Lawrence-Nelson Schools
Logan View High School
Millard South High School
Minden High School
Omaha Burke High School
Ord High School
Overton High School
Palmer High School
Perkins County High School
Ravenna High School
Sandhills High School
Sandy Creek High School
South Platte High School
Southwest High School
St. Cecilia High School
St. Paul High School
Hastings College is a four-year residential college that focuses on student academic and extracurricular achievement. Hastings' student-centered initiatives include providing books, an iPad and a two-week study away experience at no additional cost. A block-style semester schedule allows professors and students to focus on fewer classes at a time and promotes hands-on experiences. Discover more at hastings.edu.