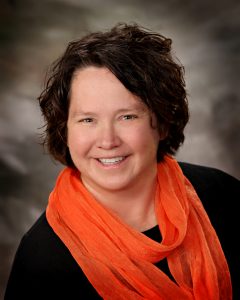 The Hastings College Alumni Association will honor Kelli Moore '93, head women's golf coach at Valley High School in West Des Moines, Iowa, with its 2022 Outstanding Alumni Coach award.
Moore will be honored in conjunction with the Athletic Hall of Fame induction during Homecoming Weekend at Hastings College on Saturday, September 24. A social hour at Kiewit Gymnasium ( 715 E. 7th Street) on campus begins at 5:00 p.m., followed by a banquet at 5:30 p.m. Tickets are $40 per person and may be purchased at hastings.edu/homecoming or by contacting the Hastings College alumni office at 402.461.7363 or alumni@hastings.edu.
Moore is a special education teacher with the West Des Moines Community Schools and has led the Valley High School varsity girls' golf team to three consecutive state championships (2019, 2021, 2022). The team finished the 2021 tournament with a record score of 604, upending the previous tournament record of 631, and won the 2022 tournament by 19 strokes. In 2019, Moore was named the Des Moines Register's All-Iowa Girls' Golf Coach of the Year, and in 2021, she received District 1 Coach of the Year and was named the 4A Coach of the Year by the Iowa High School Golf Coaches Association.
The Outstanding Alumni Coach of the Year award was established by the Hastings College Alumni Association in 2004 and is presented to graduates who have shown exceptional achievement in an athletic coaching profession.
Hastings College is a four-year residential college that focuses on student academic and extracurricular achievement. Hastings' student-centered initiatives include providing books, an iPad and a two-week study away experience at no additional cost. A block-style semester schedule allows professors and students to focus on fewer classes at a time and promotes hands-on experiences. Discover more at hastings.edu.