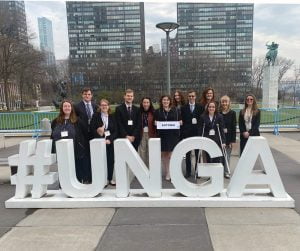 The Hastings College Model United Nations (Model UN) team traveled to New York City in early April to participate in the National Model UN Conference (NMUN). The team represented Estonia and won Outstanding Position Paper for the International Atomic Energy Agency Committee and was named an Honorable Mention Delegation.
The team spends most of the academic year preparing for the conference. As part of their preparations, they learn about the culture, priorities and government of the nation they represent. At the conference, students take the knowledge that they gained from their preparation, theoretical knowledge of international relations and of the United Nations system and put it to use in a practical, hands-on setting.
NMUN is the largest and oldest ongoing university-level Model UN, annually draws participants from more than 130 UN Member States to address current global issues, with more than half of the delegations being from international colleges and universities. The experiential learning program provides students with a forum to hone skills in diplomacy, negotiation, critical thinking, compromise, public speaking, writing and research. The conference culminates at UN Headquarters with thousands of students in attendance.
Model UN team members – hometown
Savanah Ellis, head delegate – Arapahoe, Nebraska
Victoria Caplinger – Effingham, Kansas
Mireia del Val Fernandez – Madrid, Spain
Emma Downing – Colorado Springs, Colorado
Turner Griffin – Grand Island, Nebraska
Betsy Miller – Arlington, Kansas
Kaelyn Pontes  – Fort Collins, Colorado
Lindsey Pratt – Denver, Colorado
Maggie Price – Bellevue, Nebraska
Kinser Rafert – Sutton, Nebraska
Alex Schmidt – Smith Center, Kansas
Cody Wilson – Strasburg, Colorado