The Hastings College student media team is in Sioux City, Iowa, for the next week producing livestream coverage of the 2019 NAIA Division II Women's Basketball National Championship, which runs March 6-12. These students produce the livestream of all 31 games, including the semifinals and championship games on March 11 and 12 that stream on ESPN3.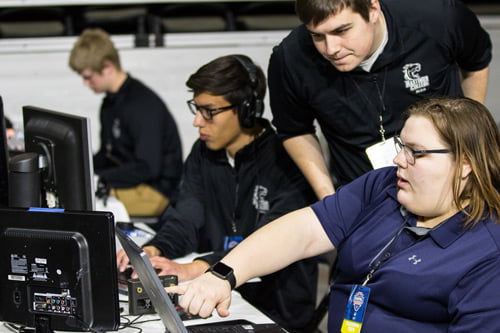 Hastings College media students, coordinated through the College's Center for Applied Media Arts, have covered the tournament for the last 16 years.
The first four years, students broadcast games the Hastings College women's basketball team played. In 2008, the National Association of Intercollegiate Athletes (NAIA) contracted with Hastings College to have HC Media students produce and stream all games but the semifinals and championship. In 2014 and 2016, respectively, the NAIA extended the contract to include the semifinal and championship games, which are streamed on ESPN3.
The livestream for the first 28 games will be available through a paid service offered by NAIA Network at naia.org. The semifinal games will be streamed on NAIA's network and ESPN3 via espn.com/watch or the ESPN app, while the championship game will be streamed exclusively on ESPN3.
Thanks to the HC Media team livestreaming arrangement, Hastings College Lady Broncos games will be available at no cost to fans via portal.stretchinternet.com/hastings. That includes today's game (March 7) against Aquinas College, which has a tip-off time set for 5:15 p.m.

HC Media's 2019 crew includes:
Sam Bosle, a sophomore from Hastings, Nebraska
Cameron Bradley, a sophomore from Wichita, Kansas
Andy Chase, a senior from Hastings, Nebraska
Jerod Fox, a senior from Newton, Kansas
Becca Garner, a junior from Centennial, Colorado
Kirsten Gilliland, a senior from Ainsworth, Nebraska
Emily Herbek, a junior from Grand Island, Nebraska
David Loomis, a sophomore from Pratt, Kansas
Nate Miller, a senior from Warrensburg, Missouri
Max Moreno, a senior from Grand Island, Nebraska
Danielle Shenk, a senior from Polk, Nebraska
Caitlin Smith, a sophomore from Brooklyn, Iowa
Kelsa Stauffer, a sophomore from Gretna, Nebraska
Jarius Stuart, a junior from Fort Lauderdale, Florida
Austin Uhlig, a first-year student from Omaha, Nebraska
Jake Zink, a senior from Papillion, Nebraska
Hastings College is a private, four-year institution located in Hastings, Nebraska, that focuses on student academic and extracurricular achievement. Hastings College has been named among "Great Schools, Great Prices" by U.S. News & World Report and a "Best in the Midwest" by The Princeton Review. For more, go to hastings.edu.