Dr. Laura Marvel-Wunderlich, a Hastings College alumna and former assistant professor of English and editor of the College's Plainsongs poetry magazine, has been awarded the Nebraska Library Association's Mari Sandoz Award for significant contribution to the Nebraska Book World.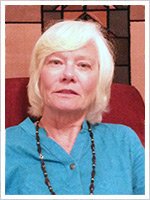 Marvel-Wunderlich was an assistant professor of English at Hastings College from 1990 to 2002, and then editor of Plainsongs from 2005 to 2015.
She has edited or written nine books on topics varying from English literature and history to the histories of Hastings businesses, as well as completed more than 30 articles and presentations.
Marvel-Wunderlich received degrees in English and secondary education from Hastings College in 1979, a master's degree from the University of Nebraska–Lincoln in 1981, a Higher Diploma from Trinity College, Dublin, in 1982,  and a PhD from the University of Notre Dame in 1989. She was an assistant professor of English at Ithaca College in Ithaca, New York, from 1987 to 1990.
She is currently co-owner of an independent bookstore, The Book Haven, in Salida, Colorado, and shares an office in Hastings College Perkins Library with her husband Joachim Wunderlich, a Hastings College professor emeritus of the Languages and Literatures Department.
The Mari Sandoz Award recognizes significant, enduring contribution to the Nebraska book world through writing, film production or related activity. Previous award winners include Ted Kooser, Jane Graff, Matthew "Sitting Bear" Jones, Roger Welsch, Marion Marsh Brown, Dorothy Weyer Creigh and others.
She will receive the award at the annual Nebraska Library Association/Nebraska School Librarians Joint Conference on October 20 in Omaha.
Hastings College is a private, four-year institution located in Hastings, Nebraska, that focuses on student academic and extracurricular achievement. With 64 majors and 15 pre-professional programs, Hastings College has been named among "Great Schools, Great Prices" by U.S. News & World Report and a "Best in the Midwest" by The Princeton Review. For more, go to hastings.edu.