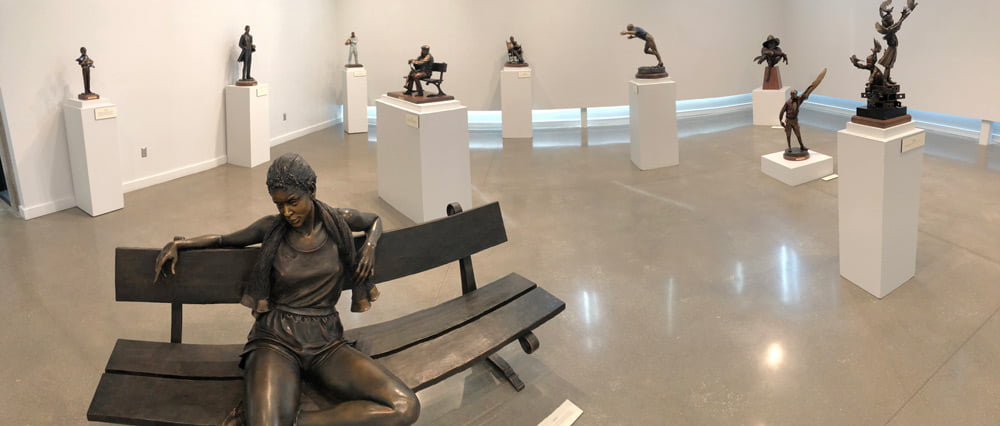 George Lundeen, a 1971 Hastings College graduate, is celebrating his Golden Graduation with an exhibition of bronzes at the Jackson Dinsdale Art Center (JDAC). The exhibition is open through September 30.
The JDAC galleries, at 700 E. 12th Street, are free and open to the public. Gallery hours are 9:00 a.m. to 5:00 p.m. Monday through Friday. Face masks are currently required inside the JDAC.
A reception for Lundeen is scheduled for this Friday, September 3, at 7:00 p.m. in the JDAC. The reception is free and open to the public. Refreshments will be served.
Lundeen's show is in the West Gallery in the JDAC. The East Gallery in the JDAC features additional works by Lundeen, as well as selected Items from the Loutzenheiser Family Donation. The East Gallery is only open through the reception on Friday.
A native of Holdrege, Nebraska, Lundeen was a Fulbright-Hayes Scholar studying at the Academia de Belle Arte in Florence, Italy. He holds a Masters of Fine Arts from the University of Illinois and a Bachelor of Arts from Hastings College. He established his sculpting studio in Loveland, Colorado, in the mid-1970s where he currently lives and works.
He has been commissioned to sculpt portraits and interpretive works alike for universities, municipalities, foundations and corporations. Lundeen is a member of the National Academy of Design and the National Sculpture Society.
In September, Lundeen will be inducted into the Hastings College Fine Arts Hall of Fame.
Other examples of his bronze sculpture can be found in various locations on the Hastings College campus:
"Michelle" on the first floor of Perkins Library
"Robert Frost" near the northern entrance to Perkins Library
"The Joy of Music" north of French Chapel
In 2014, the Loutzenheiser family of Hastings donated a group of artworks to the Permanent Collection of Hastings College. Among these items were paintings, prints and four bronze sculptures by Dr. George Hoffmeister.
Representing the Loutzenheiser collection in this show are two of the bronzes, "Buffalo Hunter" and "It Is Finished."
Hoffmeister (1924-1974) was a physician who practiced medicine in Hastings. Lundeen helped him craft the molds for his first bronze sculpture.
Hastings College is a four-year residential college that focuses on student academic and extracurricular achievement. Hastings' student-centered initiatives include providing books, an iPad and a two-week study away experience at no additional cost. A block-style semester schedule allows professors and students to focus on fewer classes at a time and promotes hands-on experiences. Discover more at hastings.edu.