The Hastings College Alumni Association has named two Outstanding Alumni Coach award recipients this year: James Lowry '91/MAT '94, a social studies teacher and tennis coach at Grand Island Central Catholic High School, and Tim Brotzki '92, president and general manager at the Omaha Sports Academy and head boys' basketball coach at Platteview High School.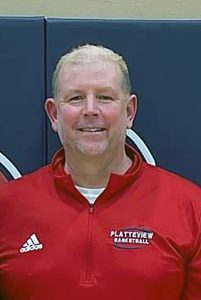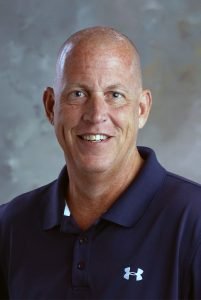 The two will be presented awards in conjunction with the Athletic Hall of Fame induction during Hastings College Homecoming on Saturday, September 30. The celebration begins with a social hour at 5:00 p.m. in Kiewit Gymnasium (715 E. 7th Street, Hastings) on campus, followed by a banquet at 5:30 p.m. Tickets are $40 per person and may be purchased online at hastings.edu/homecoming, or by contacting the Hastings College alumni office at 402.461.7363 or alumni@hastings.edu.
The Outstanding Alumni Coach of the Year award was established by the Hastings College Alumni Association in 2004 and is presented to Hastings College graduates who have shown exceptional achievement in an athletic coaching profession.
Lowry has been touted as one of the best tennis coaches in the state. Both the Grand Island Central Catholic Crusader boys' and girls' tennis teams have excelled under Lowry's leadership, with the girls' team accumulating two state championships, five runner-up finishes, four third place finishes and three fourth place finishes, while the boys' team has two third and fourth place finishes and three fifth place finishes. Additionally, Lowry has coached nine doubles state champions and three singles state champions.
In addition to his role with the Omaha Sports Academy, Brotzki has coached the Platteview High School boys basketball team for a decade, amassing 180 wins, five conference titles and six state tournament appearances. He has coached the school's all-time leading scorer, rebounder, shot blocker and assist leader and the second leading scorer in state history, and has coached several players who went on to play at the Division 1 and 2 levels and in the NAIA. The Platteview Trojans set a school record for the number of wins in a season (24) in 2018. In 2022, the team was in the state semifinals for the first time in 47 years, and in 2023 the team was in the state finals for the first time in school history.
Hastings College is a four-year residential college that focuses on student academic and extracurricular achievement. Discover more at hastings.edu.