Glass blowing artist Paul Lockwood, a 1992 graduate of Hastings College, will be working with students in the Hastings College Jackson Dinsdale Art Center (JDAC) glass studio April 4-6. Lockwood will also present a public lecture on April 4 at 7:00 p.m. in JDAC Room 101.
"My focus for this visiting artist trip is to share my knowledge of Italian glass blowing techniques, such as cane pulling and murrine pick-up techniques, with students in ways where they can immediately begin expressing themselves," Lockwood said. "Glass is very personal to me, being a medium that requires talent, time and persistence to accomplish works that relate natural elegance."
Lockwood's work with students during the day, as well as his lecture the evening of April 4 are free and open to the public.
Bio for Lockwood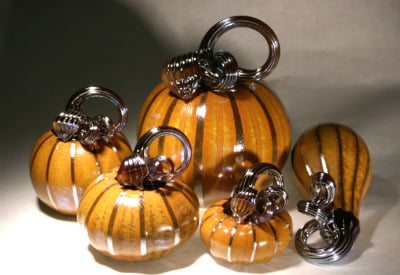 Lockwood first learned the art of glass blowing at Hastings College while pursuing his degree in physics. His instructors, John Elias, Tom Kreager, Lino Tagliapietra, Elio Quarisa and Dino Rosin have inspired and encouraged him throughout his career as a glass blower. He has traveled to many studios throughout the nation and continues to take courses at The Studio in Corning, New York.  
Lockwood describes gathering molten glass from a furnace is like gathering honey out of a pot. Each time he gathers a new layer, Lockwood has the opportunity to add colors, textures and reshape the design of the final form. Once he is happy with his creation, it goes into an annealing oven to gradually bring the glass to room temperature.
Glass has given Lockwood an outlet to speak artistically while allowing him to challenge himself with the ancient techniques of glass blowing.
Hastings College is a private, four-year institution located in Hastings, Nebraska, that focuses on student academic and extracurricular achievement. With 64 majors and 15 pre-professional programs, Hastings College has been named among "Great Schools, Great Prices" by U.S. News & World Report and a "Best in the Midwest" by The Princeton Review. For more, go to hastings.edu.