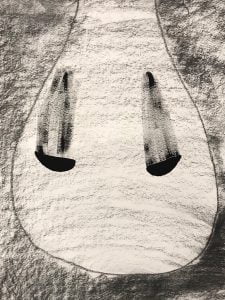 The second 2021 senior art exhibition, "Life Machine," is opening April 28 at the Jackson Dinsdale Art Center. The exhibition features work by five Hastings College seniors and is open through May 16.
The artists will give a lecture on their work Sunday, May 2 at 11:00 a.m. in the Wilson Center (714 E. 9th Street), with a gallery reception to follow in the JDAC.
The JDAC gallery, at 700 E. 12th Street, is free and open to the public. Gallery hours are 9:00 a.m. to 5:00 p.m. Monday through Friday. Face masks are required inside the JDAC and the gallery's capacity is limited.
This senior showcase includes acrylic and charcoal work by Brady Achtemeier of Beatrice, Nebraska; glass sculptures created by Michael Beahm of Hastings, Nebraska; ceramic works by Connor Goodwin of Valentine, Nebraska; paintings by Jordan Ismaiel of Hastings; and digital photographs by McKenna Lamoree of Hastings.
Achtemeier, a digital design and development and art major, intended to major in the sciences but found her passion for the arts during her sophomore year.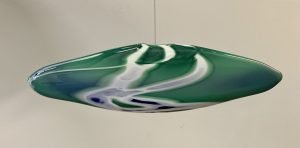 "I have projective synesthesia, and in my case emotions are felt as ambiguous forms that move through my body," Achtemeier said. "My creative practice investigates these unique relationships between emotional experience and form. The work I create includes sculpture, painting, drawing and interactive projected animation."
Beahm, an art major, created glass kayaks as a site to explore lived-experience and personal growth. "Through the use of surface imagery, I make personal connections to places I have been that have had significant influence on my views and beliefs," he said. "The imagery is made through a multi-step process that includes carving and grinding away layers of glass to reveal colors underneath. The way the designed surfaces stretch and change through the glass blowing process serves as an examination to the way our own memories change and clarity diminishes over time."
Goodwin, an art major from the Sandhills, has exhibited work throughout Nebraska and across the Midwest. After graduation, he plans to return to the Sandhills before attending grad school.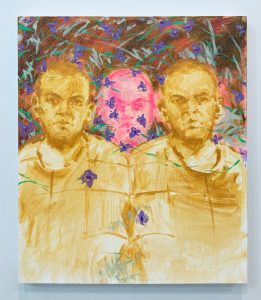 Primarily working in ceramics, he said his practice explores ideas relating to gratification and the pursuit of pleasure. "Using thousands of frosting-like piped dollops and other dessert inspired pieces, I address the balance between self control and indulgence," he said.
After graduation, Ismaiel, an art and philosophy and religion double major, will attend graduate school for painting and drawing at the University of Iowa. For the senior thesis exhibition, Ismaiel's painting practice examines protection and queer futurity through processes of self-portraiture and composite images, constructing effeminate, utopian environments.
Lamoree, an art major with an emphasis in photography, is showing "Spectrums of the Soul," the culmination of portrait photographs showcasing the auras of five important individuals who helped Lamoree grow artistically and spiritually throughout her time at Hastings College.
Hastings College is a four-year residential college that focuses on student academic and extracurricular achievement. Hastings' student-centered initiatives include providing books, an iPad and a two-week study away experience at no additional cost. A block-style semester schedule allows professors and students to focus on fewer classes at a time and promotes hands-on experiences. Discover more at hastings.edu.