Landscape paintings from the collection of Kiechel Fine Art in Lincoln, Nebraska, will be on exhibit at the Hastings College Jackson Dinsdale Art Center Gallery from Feb. 13 to March 17.  
The show will feature a variety of landscape pieces, including works by several contemporary artists and one by prominent regionalist painter, John Steuart Curry (1897-1946). Curry's work heavily reflects his ties to the Midwest, and his "rejection the impersonal quality of industrialism to favor…his agrarian background."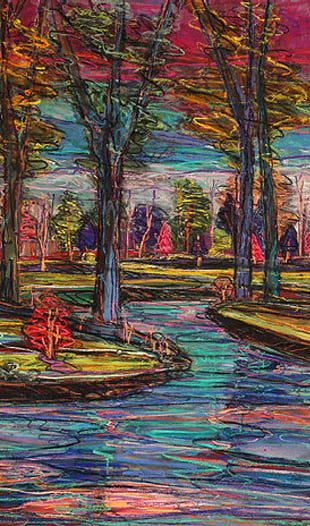 Additional works by Marcia Goldenstein, Hal Holoun, Anthony Benton Gude, Susan Puelz, Jenny Kruger and others are included in the works selected to be on display.
A reception in honor of the exhibit will be held in the JDAC on Wednesday, Feb. 15 from 4:00 to 6:00 p.m.  
Kiechel Fine Arts specializes in 19th and 20th century American Art, Old Master and Contemporary prints, as well as regional and national contemporary art. Pieces from their collection have also been displayed in museum worldwide, including the Met and the British Museum.
The landscape paintings exhibition is open for public viewing anytime while the JDAC Gallery is open, and admission is free. Gallery hours are Monday to Friday from 9:00 a.m. to 4:30 p.m., and Saturdays from noon to 4:00 p.m. Personal tours can be scheduled by calling 402.461.7396.