Tom Kreager, Hastings College professor of Visual Arts, will have his sabbatical exhibition, titled "Thingify: To turn a thought into an object," on display in the Hastings College Jackson Dinsdale Art Center (JDAC) gallery beginning April 1.
An artist reception, which is free and open to the public, is Friday, April 5 from 6:00 to 8:00 p.m. at the JDAC (700 E. 12th Street). The exhibition is open through April 25. Regular gallery hours are Monday through Friday from 9:00 a.m. to 5:00 p.m., plus 5:00 to 8:00 p.m. Wednesdays, and Saturdays from 10:00 a.m. to 1:00 p.m.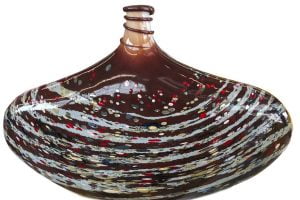 Kreager said he considers himself as an art maker and inventor. "Many of the ideas that I have are not totally based on existing techniques so it gives me the opportunity to invent tools and methods needed to complete my ideas," he said.
Over the course of the fall semester he was on sabbatical and dealing with illness, which impacted his work.
"Due to illness, I was only able to work one day a week and make one or two pieces as opposed to normally making five or six pieces a week. This slower process allowed my art to evolve more than normal over the past four months," Kreager said.
He said that the conception of the idea through the completion of art is what gives him energy and excitement to keep making art.
Tom Kreager Biography
Tom Kreager teaches glass art, sculpture and 3-dimensional design at Hastings College. He earned his Master of Fine Arts from the University of Illinois and his Bachelor of Fine Arts from the Ohio State University.
Previously, he taught graduate classes at the Tokyo Glass Art Institute and served as a visiting artist at many colleges and universities. Kreager has also taught and/or worked at Pilchuck Glass School, Haystack Mountain School of Crafts and Penland School of Crafts. For six years, he was on the Board of Directors of the International Glass Art Society.
Kreager has exhibited his work internationally and completed architectural commissions for the eBay headquarters in Omaha and Copeland Hall at the University of Nebraska-Kearney, among others.
Hastings College is a private, four-year institution located in Hastings, Nebraska, that focuses on student academic and extracurricular achievement. Hastings College has been named among "Great Schools, Great Prices" by U.S. News & World Report and a "Best in the Midwest" by The Princeton Review. For more, go to hastings.edu.